Holocaust memorial vandalized for second time this summer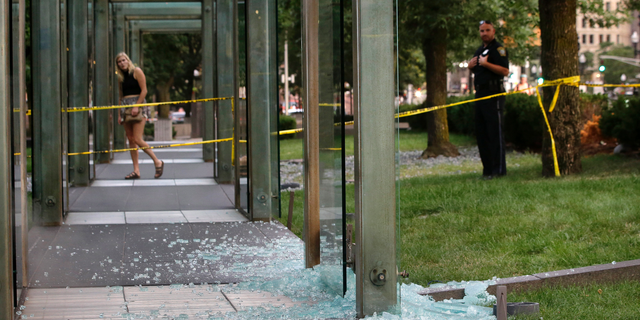 BOSTON – The New England Holocaust Memorial in Boston has been vandalized for the second time this summer.
Police said a 17-year-old Malden boy smashed a glass panel on the memorial Monday evening. He was detained by two bystanders until officers arrived on the scene. Police said he will be charged with willful and malicious destruction of property. The police department's civil rights unit also is investigating to determine if additional charges are warranted.
It is the second time the memorial has been damaged in the past few months.
In June, police said James Isaac used a rock to shatter a roughly 9-foot-tall (3-meter-tall) glass panel on one of the memorial's six 54-foot-high (16-meter-high) towers. Isaac has pleaded not guilty to vandalism charges.
The six glass towers are lit internally and etched with millions of numbers that represent tattoos on the arms of many Jews sent to Nazi death camps.
The repaired memorial was rededicated in July.
The Jewish Community Relations Council and Combined Jewish Philanthropies released a statement late Monday night saying that they are "appalled and saddened" by the latest vandalism.
"We will remain resilient and will have a timeline for rebuilding the memorial once we have assessed the damage," the statement said.
Democratic Mayor Marty Walsh wrote on Twitter that he was "saddened to see such a despicable action." He thanked the public and Boston police for the "quick arrest" of a suspect.