Hiring of accused pedophile rocks Albuquerque school system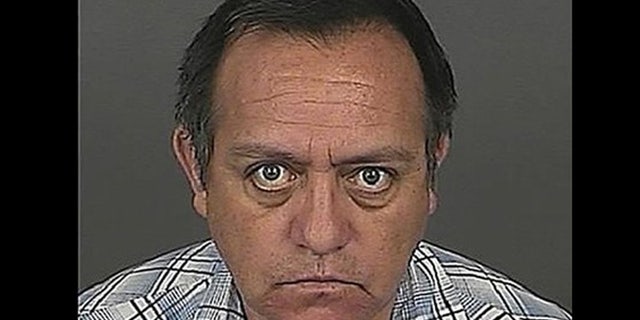 NEWYou can now listen to Fox News articles!
He was slated to be second-in-command at Albuquerque Public Schools, but Timothy Martinez has instead started the year as a fugitive on the run from police in two states before being captured Wednesday after he was revealed to be facing multiple outstanding child sex abuse charges in Colorado.
Martinez, 50, was hired in June as the district's $163,000-per-year deputy superintendent under the name Jason Martinez, but quit on Aug. 20, citing personal reasons. But the real reason for his abrupt resignation, which came after weeks of Martinez dodging fingerprinting and background checks for the new job, was likely the knowledge Colorado authorities were closing in on him. Martinez was free on bond but not allowed to leave Colorado, where he faced charges in Denver of sexual contact with a boy under 15 in 2012 and 2013, incidents authorities say were part of a "pattern of sexual abuse."
"There is simply no explanation for exposing any of our children to an individual who has any violent or sexual criminal charges in his background."
The Denver District Attorney's Office confirmed to Fox News on Wednesday that Timothy Jason Martinez was arrested in Denver around 10:30 a.m. local time by the Rocky Mountain Safe Streets Task Force. He is currently being held without bond in the Denver Detention Center, and is scheduled to appear in court Thursday morning.
The question remaining in Albuquerque is how a predator landed a job in the 95,000-pupil district.
"There is simply no explanation for exposing any of our children to an individual who has any violent or sexual criminal charges in his background," said New Mexico Attorney General Hector Balderas, who announced Monday his office will look into why Albuquerque Public Schools' safety protocols were bypassed so that Martinez was hired before a background check was completed.
Martinez, despite not submitting a resume or cover letter, had been personally appointed by current Superintendent Luis Valentino, who denies knowledge of the allegations. Now Valentino's own job is in jeopardy, with an emergency school board meeting looming on Thursday. Karen Rudys, interim associate superintendent for human resources, reported she became alarmed with Martinez for repeatedly dodging the required fingerprinting and background check and informed Valentino five times of Martinez's lack of cooperation.
Martinez left his post as Denver Public Schools' deputy of operations in elementary education in 2013 amid charges involving a young boy. Colorado court record indicate that Martinez had sexual contact with a boy under the age of 15 between May 1, 2012 and June 27, 2013 and had a "pattern of sexual abuse" of the child for which he posted two $50,000 bonds. Denver police say Martinez is also accused of attacking his 26-year-old boyfriend and hitting another man with his car in a jealous rage.
On Tuesday, a Colorado judge revoked Martinez's bonds and issued an arrest warrant after it was learned he left the state, a violation of his condition of release.
Lynn Kimbrough, spokeswoman for the Denver District Attorney's Office, said once the arrest warrant was issued, Albuquerque Police were notified as well as felony warrant squad with Denver Police Department.
Kimbrough said Martinez is in the NCIC system.
Martinez was employed with the Denver School District July 1, 2002 through Jan. 3, 2012. According to a district spokesman, Martinez resigned his post. He went on to work for an education publisher before arriving to Albuquerque.
"We know that public trust is an issue for us now, and we will do everything we can to regain the public trust and confidence," in a statement released Sunday, said Don Duran, president, Albuquerque Public Schools Board of Education. "We apologize for putting the community through this ordeal."