Hinting marriage, undercover cop elicits slaying confession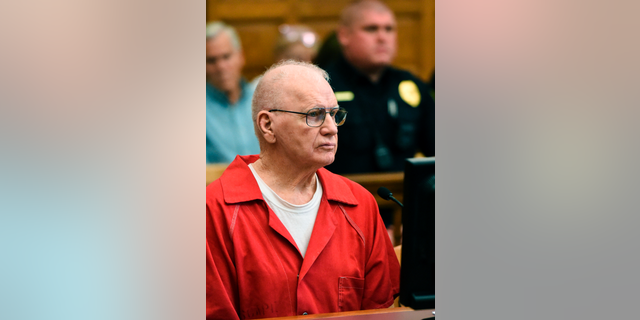 CLEVELAND – There wasn't much doubt in the minds of police in the Ohio village of Hartville, best known for its fertile muck farms, that Phil Snider killed his wife of 53 years.
But it took an undercover female officer who played her role so convincingly that the 73-year-old man proposed marriage over numerous cups of fast-food coffee and he revealed in gruesome detail how he had bludgeoned 70-year-old Roberta Snider to death and disposed of incriminating evidence.
Along the way, after his wife went missing in January, Snider spun different versions of what happened to her when questioned by police about how Roberta died and what happened to her body during what he initially said was a trip to Memphis to visit Elvis Presley's Graceland.
The undercover officer surreptitiously recorded all of their meetings, including their final coffee date on April 20. Snider had offered marriage and the promise that she would receive his pension when he died. The officer said Snider would have to be honest about what happened to Roberta if he wanted their relationship to continue.
"Scenario-wise, if you hit her in the head, what did you hit her with?" the officer is heard asking Snider as they played cards at a McDonald's.
"I can't tell you that," Snider replied.
"Why?"
"We aren't married," Snider said.
She continued pressing Snider for details, which he provided while punctuating most of the revelations with the words, "Just scenario."
Snider, in the recording provided by police to media outlets, described how he gently placed a shop towel over his wife's face as she slept on a love seat in the couple's condominium and used a 2-pound hammer to kill her with two blows to the head. He said he wrapped her body in garbage bags and placed it along with blood-flecked evidence into plastic storage containers that he slid into the bed of his pickup truck.
Snider told the undercover officer he threw the hammer, a lampshade and two throw pillows from the love seat into commercial trash bins on the trip to Memphis.
Even now, what Snider did with his wife's body is unclear. It's the one detail Snider failed to tell his faux fiancee.
Snider agreed to take police to the spot where he discarded his wife's body when he pleaded guilty Monday to aggravated murder, gross abuse of a corpse and tampering with evidence in northeast Ohio's Stark County. Snider's deal with prosecutors calls for a sentence of 20 years to life in prison.
Snider's attorney declined to be interviewed.
Hartville police became involved when Roberta Snider's brother asked for help Jan. 9, two days after Snider told some family members that Roberta had fatally choked on phlegm as they arrived in Memphis. Authorities say she was killed Jan. 3.
Snider initially told Hartville police the same story. He added that an ambulance responded to a hotel parking lot in Memphis where he told medics that he was taking her body home to be cremated.
No records of such a call were found.
When police, on Jan. 14, showed Snider surveillance photos from a hotel in Sparta, Kentucky, that did not include images of his wife, he changed his story and said she died between Columbus and Cincinnati and that he continued to Memphis with her body in the back of his truck because he wanted to see Graceland one last time. He said he threw her body into the Tennessee River from an interstate bridge on his way home. No body was found.
Police gathered more video, this time from an Ohio gas station where Snider filled up on his way to Memphis, showing only Snider in the cab of his truck. Before he could be questioned, Snider was found in the basement of his condo with a plastic bag over his head in what's been described by authorities as a suicide attempt. He was taken to a hospital, where he remained for weeks.
The day after the suicide try, a cadaver dog hit on a large plastic tub in the basement of the couple's condo. Inside was a swatch of Roberta's favorite "Hartville, Ohio" sweat shirt that appeared to be blood-stained. Tests later matched the blood stains to Roberta. Confronted at the hospital, Snider provided yet another version of events. He said Roberta died at home and that he'd put her body in a garbage can.
The undercover officer charmed her way into Snider's life after his release from the hospital, telling him she was in town to care for her dying mother. Hartville Police Chief Larry Dordea told The Associated Press the officer did a "great job" after sending her on what he called a "fishing expedition" to befriend Snider. Dordea wouldn't provide any details about the officer.
Dordea said he interviewed Snider more than a dozen times before Snider's April 20 arrest, describing the retired carpenter as "smug."
There are only seven full-time officers in Hartville, an agricultural community of around 3,000 people about 50 miles southeast of Cleveland that's known for its rich, black soil.
"We got to know each other pretty well," Dordea said. "He was one of those individuals who felt he was smarter than the people he was talking to. Maybe he underestimated our law enforcement capacities here."
Dordea believes Snider had thought about killing his wife for "a long time." He said that although the couple was known to argue, police had never been called to their home.
In the recorded conversation, Snider tells the undercover officer: "I didn't snap. I was numb."
"And fed up," the officer said.
"And fed up."
Authorities owe it to Roberta Snider's family and the Hartville community to find her body, Dordea said. He wouldn't divulge the location Snider has provided, but said Snider will be riding with him on the trip there.
"Until we get there, we won't know," Dordea said. "Maybe there will be some enlightening conversations between here and there."