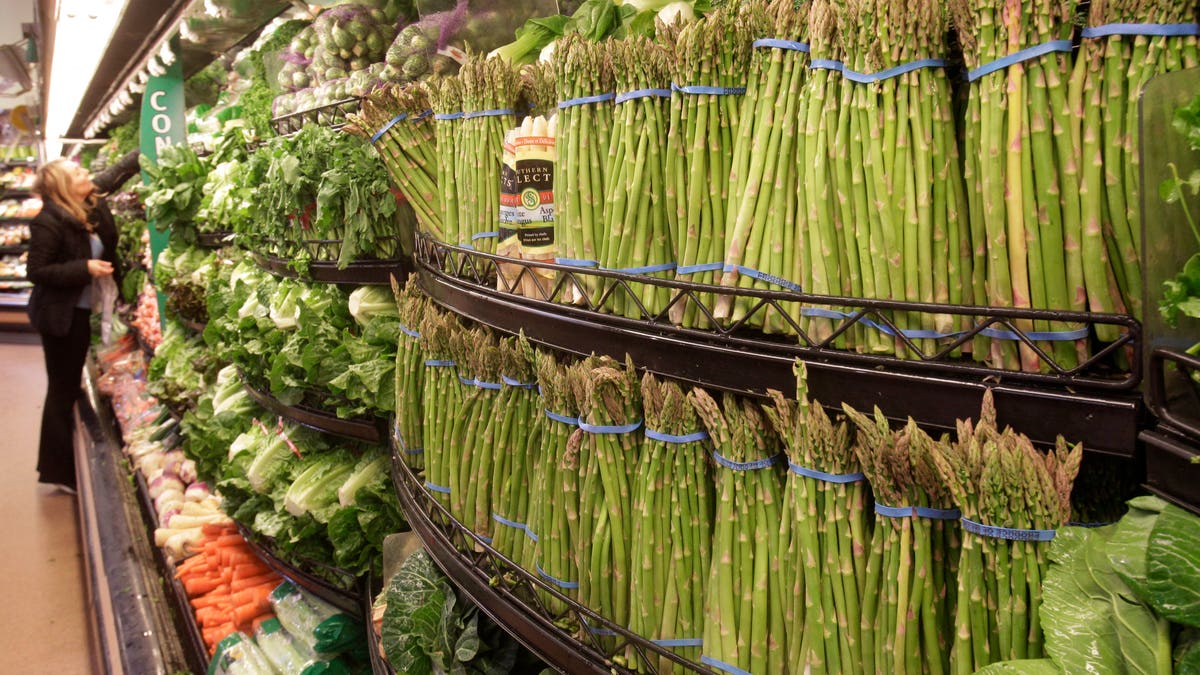 WASHINGTON – Americans are noticing higher prices at the grocery store, and it's about to get worse.
Food prices at the wholesale level rose last month by the most in 36 years. Cold weather accounted for most of it, forcing stores and restaurants to pay more for green peppers, lettuce and other vegetables, but meat and dairy prices surged, too.
The big questions are how long food prices will keep rising and how high they'll go.
The impact is already visible. Wendy's, paying higher prices for tomatoes, now puts them on hamburgers only by request. Starbucks and Dunkin' Donuts have raised prices because they pay more for coffee beans. Supermarkets warn customers that produce may be of lower quality, or limited.
"It has thrown the whole industry into a tizzy," says Dan Bates, director of merchandising for the produce division of grocery chain Supervalu Inc.
Food prices rose 3.9 percent last month, the most since November 1974. Most of the increase was because harsh winter freezes in Florida, Texas and other Southern states, which damaged crops.
At the same time, global prices for corn, wheat, soybeans, coffee and other commodities have risen sharply in the past year. That's raised the price of animal feed, which has pushed up the cost of eggs, ground beef and milk.
Paul Ashworth, an economist at Capital Economics, says his firm has warned since last summer that spikes in commodity prices would eventually work their way down to wholesalers and consumers, "and here it is. There is plenty more to come over the next few months."
Crop prices began to increase last summer, after droughts slammed harvests in Russia and several other countries. Sharp growth in new world economic powers like India and China has also increased demand.
Overall, the producer price index, which tracks price changes before they reach the consumer, rose 1.6 percent in February, the Labor Department said Wednesday. That's double the rise from the previous month and the biggest increase since June 2009. The index is adjusted to account for seasonal variations.
More expensive food means people have less money for the casual spending that helps the economy grow and create jobs. And it adds to growing concerns about inflation down the road, still a worry two years after the Great Recession.
Another is the weak housing market, which most economists say is years away from a full recovery. The government said Wednesday that home construction plunged in February to the lowest level since April 2009 and the second-lowest in more than a half-century.
The stock market dropped sharply on the disappointing U.S. economic reports and growing concerns about Japan's nuclear crisis. The Dow Jones industrial average fell by more than 240 points, or 2 percent.
Hints of steeper food prices will likely show up in the government's report on consumer prices, due out Thursday. The consumer price index is forecast to rise 0.4 percent, the same as the previous two months, but the wholesale report caused several economists to warn it could be higher.
Many economists expect food prices to keep rising through the end of the year. Consumer food prices will be about 5 percent higher this fall than the previous time last year, according to RBC Capital Markets. That's up from the current annual pace of about 2 percent.
Food prices are already the highest since the U.N. began keeping track in 1990.
Corn prices have almost doubled since last summer, although they did dip this week after Japan's devastating earthquake and tsunami.
The harsh winter took a toll on restaurants, grocery stores and consumers. Normally if there is a shortage of one product in Florida, such as green peppers, companies can turn to Mexico or Texas. But all the major vegetable producing regions were harmed. That has led to everything from smaller heads of lettuce to higher prices for bananas and scarred fruit.
"This year was basically a perfect storm," says Supervalu's Bates, who hopes things will improve now that the spring growing season is almost here.
Ashley Sewell, who works three part-time jobs in Fort Worth, Texas, says she sees the difference when she goes out to eat or shop for groceries. She's an avid cook who used to wander the grocery-store aisles looking for inspiration. Now, she takes a list.
"I used to cook for my friends and neighbors. I can't do that anymore," she says.
Americans are also being hit by the highest gas prices in more than two years. The national average price Wednesday was $3.55 a gallon, up 42 cents from a month earlier, according to the AAA's Daily Fuel Gauge.
Still, the U.S. is mostly insulated from more devastating impact of higher food prices around the globe. Last month, the World Bank estimated that higher prices for corn, wheat and oil have pushed 44 million people into extreme poverty since last June.
Americans spend a much smaller portion of their budgets on food — about 14 percent — compared with 40 percent to 50 percent in developing countries. Labor makes up a bigger portion of food prices in the U.S., while in developing countries people are more likely to buy items like wheat to make their own bread, making them more susceptible to swings in commodity prices.