High school students resort to bullhorn after Catholic Church nixes 'political' graduation speech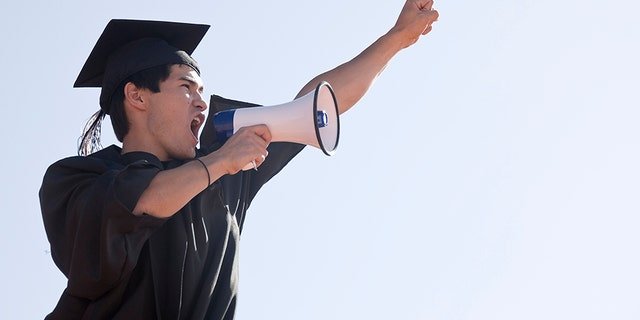 NEWYou can now listen to Fox News articles!
Two students at a Kentucky private high school – the valedictorian and the student council president – were told they couldn't speak at graduation because the local Catholic diocese disagreed with the content of their remarks.
So Christian Bales, valedictorian, and Katherine Frantz, the council president, used a bullhorn to give their talks Friday outside the ceremony in Northern Kentucky. Bales focused on youth activism, referring to Parkland, Fla., students calling for stricter gun control laws after a shooting massacre at their high school in February.
Diocese of Covington spokesman Tim Fitzgerald said the students didn't submit their speeches on time.
"When the proposed speeches were received, they were found to contain elements that were political and inconsistent with the teaching of the Catholic Church," Fitzgerald said in a statement.
Bales told local media outlets he isn't sure if his being openly gay played a role in their decision.
"I have been on their radar as a rather non-gender-conforming individual," he said. "I have worn makeup and bobby pins in my hair to school before. So it seems too much of a coincidence for my critical thinking to think this was just about the speech itself.
Bales added, "I wasn't going to go up there and give my speech in full drag."
Bales touched on political activism by students, including himself, such as urging the removal of a Jefferson Davis statue at the state capitol, and attending the pro-life March for Life.
"There's a misguided notion that wisdom is directly proportional to age, but we're disproving that daily," Bales said in his speech. "The young people must be willing to speak candidly about issues, and we mustn't tremble in the face of the institution that try to silence us."
The Associated Press contributed to this report.