High school senior charged with exposing himself in yearbook photo says he was dared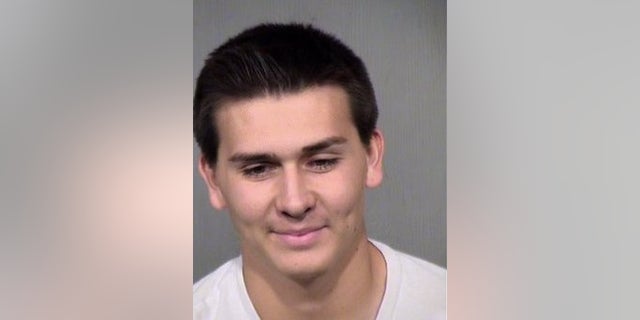 A high school senior arrested on Saturday after he admitted to exposing himself in a yearbook photo said it was all supposed to be just a harmless prank.
Warning: Photo may be considered graphic.
Hunter Osborn, 19, faces 69 counts of indecent exposure -- one for each of the students and faculty members present at the time he posed for the picture, as well as a felony charge of giving harmful items to minors.
The photo shows the varsity football team at Red Mountain High School in Mesa, Ariz., and appeared in the yearbook and football game programs for months before school officials said they realized what had happened.
Osborn said he was "disgusted by what he had done," police told Fox 10. The student claimed a teammate dared him to expose himself.
"The district is dismayed by the actions of the students involved in the photograph. Their behavior does not reflect the values of Red Mountain High School or Mesa Public Schools," officials for the school system said. "While the small size of the photograph as published makes the details difficult to discern, the yearbook has been recalled so the school can make a minor but critical edit for the inappropriate content."

Osborn was ordered to wear an ankle monitoring device, Fox 10 adds. He's due in court for a preliminary hearing on May 20.