High school principal lauds Confederate flag as 'heritage, not hate'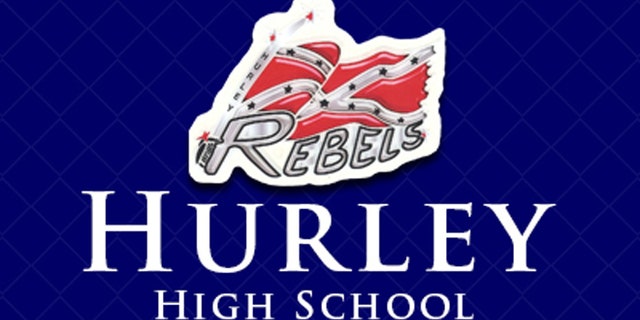 NEWYou can now listen to Fox News articles!
A principal of a Virginia high school refuses to remove the Confederate flag that is the school's symbol, saying that the imagery is "heritage, not hate."
"Our community is standing by it," Pam Dotson, principal of Hurley High School, told the Washington Post last week, as students came through the school's doors – which when closed form the Confederate symbol that has led to fiery debate following the murder of nine people in South Carolina, allegedly by a gunman who embraced the battle flag.
Dotson is not the only one who rejects the Confederate flag as a symbol of hate.
Hurley High School's senior running back has a tattoo of the Confederate battle flag on his arm. It matches the flag displayed on his helmet.
And the running back, Chris Spencer, the only African-American student at Hurley High, doesn't see anything wrong with it, either.
"It doesn't mean racism to me," Spencer said to USA Today Sports. "I just look at it as a flag. It's our mascot. It just means our school."
"It means heritage, not hate."
After accused shooter Dylann Roof allegedly gunned down the black congregants at a South Carolina Bible study in June, the debate about the Confederate flag received renewed attention. Roof was pictured posing with the flag in a website reportedly administrated by him. On the site he spewed the racist propaganda that paved the way for the infamous act in which he now awaits trial.
Soon after the Bible study slaughter, South Carolina stopped flying the battle flag at its statehouse. Other Southern states have also sought to minimize the Confederate adornments that decorated official buildings for so long.
But the Confederate flag hasn't been folded everywhere, and certainly not at Hurley, where the Rebels appear proud of the display.
"It means heritage, not hate," Dotson said. "You won't find a single person in Hurley who thinks different."
Hurley is an unincorporated community which lies in Buchanan County, about 3 miles from the Kentucky border. The town's population is estimated at 3,000 in a county that's 97 percent white, according to USA Today.
The Rebels play on Smiley Ratliff Field, named for the team's first coach in 1951, Arthur M. Ratliff Jr. A military man who fought in World War II and Korea, earning two Purple Hearts and a bronze star, Ratliff had ancestors who fought for the South in the Civil War. Ratliff believed the Confederate battle flag "denoted courage, valor and states' rights," according to Sam Varney, who played on one of the first Hurley teams.
"It has nothing to do with hatred or anything else they want to say," Darwin Bailey, a local fan, told USA Today. "We're one big family here."