High cost of Common Core has states rethinking the national education standards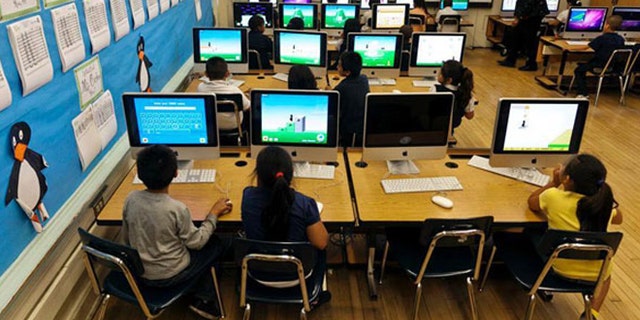 States are learning the cost of Common Core is uncommonly high.
The federally-backed standards initiative, first proposed by the nation's governors and an educators' association, seeks to impose a national standard for achievement among K-12 students. So far, 45 states plus the District of Columbia have signed on, with some implementing curriculum designed for the Common Core Standards Initiative during the current school year and the rest set to take part in the next school year. But several states are reconsidering their participation, and one big reason is the cost.
States will spend up to an estimated $10 billion up front, then as much as $800 million per year for the first seven years that the controversial program is up and running. Much of the cost is on new, Common Core-aligned textbooks and curriculum, but the added expenses also include teacher training, technology upgrades, testing and assessment. The figures are taking states by surprise.
[pullquote]
"It's a fair amount of money given a lot of states signed up without any cost analysis," Theodor Rebarber, CEO and founder of the nonprofit Accountability Works, which sanctioned the study on the projected costs of Common Core, told FoxNews.com. "Just looking at the cost aspect, it was not focused at the time, so a lot of jurisdictions did not realize what would occur down the road."
A 2012 study by the Thomas B. Fordham Institute called, "Putting a Price Tag on the Common Core: How Much Will Smart Implementation Cost?" found the costs for implementing Common Core will vary, depending on how much a state buys in. The study detailed three levels of implementation – a "Bare Bones" rollout plan, a "Business as Usual" traditional plan (the priciest) and a hybrid, or "Balanced Implementation," combining the most and least expensive elements.
Education officials in Maryland estimated in a report last month that it will require $100 million to upgrade computers statewide to support the testing that is the centerpiece of Common Core. Georgia and California are also finding that costs are too high to implement Common Core, with the latter estimated to spend approximately $35 million per year, or about $30 per student, in testing costs alone.
The study by Accountability Works, the Maryland-based nonprofit education advocacy group, estimated that schools nationwide will need $6.87 billion for technology, $5.26 billion for professional development, $2.47 billion for textbooks and $1.24 billion for assessment testing over the first seven years that Common Core is in effect.
But Common Core advocates point out that items like textbooks, study materials and technological upgrades must be funded whether under Common Core or any other program. A recent report found that schools already spend nearly $700 million per year testing and assessing students, which could mean even more of the new expenses are really just cost-shifting, according to Carissa Miller, deputy executive director of Council of Chief State School Officers.
"The costs of implementing these new assessments will vary state by state and school by school depending on the technology needed to build the infrastructure to give the assessments," Miller said. "That being said, the technology schools need to give the assessments is also a critical tool educators need to ensure all students are prepared for college and career."
Officials with the Smarter Balanced Assessment Consortium, one of the two groups charged with providing testing and learning materials, told FoxNews.com that schools will be given testing options to help defray the costs. Spokeswoman Jacqueline King said the consortium is committed to keeping the testing and assessment component of Common Core from breaking the states' banks.
"The assessment tests are built to run on the computer systems that schools have today," King said. "All they need are the basic requirements and we are keeping the bandwidth as small as possible."
King adds that schools will have sufficient leeway, up to 12 weeks for elementary students to administer the tests so every student will be able to use a computer.
"We are also providing a paper and pencil option for the first three years," she added.
In addition, the federal government is providing states with a total of $350 million in aid to make the transition to Common Core.
Still, no one is disputing that implementing the Common Core program will cost states, which could make it unpopular with taxpayers as well as parents who support local control of what kids are taught. Critics say the program, which now has the full backing of the federal government, amounts to Washington taking over curriculum and sticking locals with the bill.
"When first promoting Common Core State Standards, the Department of Education used a carrot-and-stick approach by awarding grant money and waivers from No Child Left Behind regulations in exchange for adoption of the standards," Rep.Blaine Luetkemeyer (R-MO.) said in a statement to FoxNews.com. "At a time of economic recession and shrinking state budgets, this federal money enticed the vast majority of states to adopt CCSS and their aligned assessments, often without states being able to fully analyze the future costs of annual testing. I'm afraid the bloom is off the rose as Missouri, and a number of other states, are realizing the new assessments will cost nearly twice as much as the previous state-based tests."
"Moreover, I am concerned that many of our rural districts will not even have the technological capability required for the new tests, adding even more costs," he added.
Glyn Wright, Executive Director of the Eagle Forum, also stressed how the budget constrains could be a real issue for many schools.
"At a time when many states and school districts are struggling to stay afloat financially, the costs in this massive, unfunded mandate to these states will undoubtedly fall on the backs of the taxpayers," Wright said to FoxNews.com. "Funding aside, none of these estimates take into account the greatest cost to children, parents, and teachers – the massive transfer of power from state and local school systems to faceless, unelected federal bureaucrats."
Louisiana State Rep. Cameron Henry last year urged his state's Gov. Bobby Jindal to stop the state from taking part in the federal standards program. In addition to claiming it eliminates parental involvement and local control, he said the testing, to be conducted in Louisiana and 17 other states by Partnership for Assessment of Readiness for College and Careers, would cost the state too much money.
"Like the costs of the Affordable Care Act, Louisiana cannot afford the long­term costs associated with implementing PARCC testing," Henry wrote.
Jindal has not stated a clear position on Common Core, telling the Baton Rouge Press Club last month that he supports tough standards, yet leaving open the door for a reversal of the state's decision to participate. "We cannot retreat from rigorous standards," said Jindal. "However, I am absolutely opposed to any kind of federal takeover of a curriculum or federal government involvement in dictating to us our curriculum."
None of the 45 states participating in Common Core have completely backed out of the program, but measures have been introduced in several Legislatures to do so. Georgia, Oklahoma and Alabama are among states that are now balking at participating in the testing process. Officials from Pennsylvania have said that they will consider other testing options.
This past December, Kansas opted out of using the assessments and opted to commission tests from the University of Kansas instead. Last month the state of Alaska opted to go with testing from the University of Kansas as well.