'He's a violent coward': Anti-Trump protester gets jail for Inauguration Day riots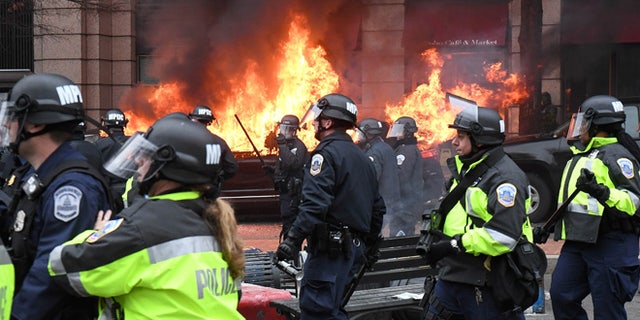 A Tampa man was sentenced to four months in jail Friday after participating in an inauguration day riot that injured six police officers and cost tens of thousands of dollars in damages in Washington D.C.
Dane Powell, 31, was captured on video carrying a black flag while throwing rocks and bricks at D.C. police officers and shattering store windows during the 30-minute riot that spanned 16 city blocks, prosecutors said. He was also dressed in black and had part of his face covered.
Assistant U.S. Attorney Jennifer Kerkhoff said Powell was spotted in Logan Circle the day before President Trump's inauguration with gas masks and carrying the same black flag seen in the video, the Tampa Bay Times reported.
BIAS ALERT: TRUMP DEFENDS WESTERN CIVILIZATION – AND MEDIA CALL IT RACIST
"He initiated violence," Kerkhoff said. "He came to the District of Columbia to engage in violence by hiding his face, throwing rocks and running. He's a violent coward."
Kerkhoff called Powell "among the most violent" of the defendants that participated in the riot.
"He was throwing rocks and bricks at windows where people, customers and children were inside," she said. "He charged the police line with bricks."
CONNECTICUT MAN WRITES ANTI-TRUMP GRAFFITI OUT OF 'ANGER TOWARD LIBERALS,' POLICE SAY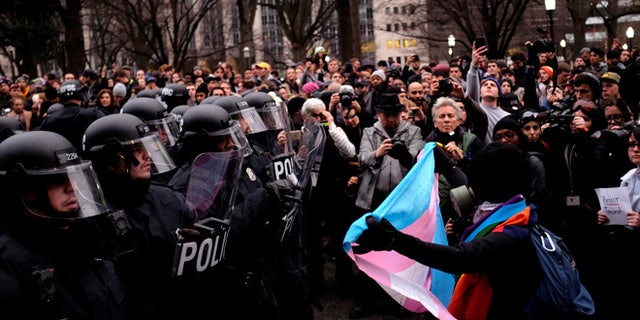 Powell asked Judge Lynne Leibovitz for "leniency" and asked for "forgiveness for anyone who was scared, hurt or felt threatened," the Times reported.
Powell's attorney Ashley Jones told the court her client, who spent nine years in the Army, did not travel to D.C. to riot, but to protest peacefully. She also blamed police officers for inciting violence.
"Mr. Powell's motivation was to protest the inauguration," Jones said. "And during that protest he got carried away."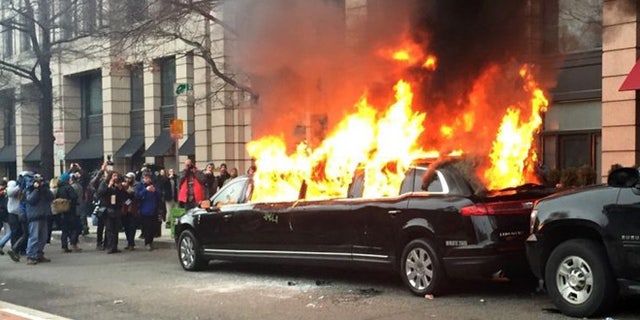 According to the Tampa Bay Times, Powell pleaded guilty in July to assault on a police officer and inciting a riot, which are considered felony charges.
Authorities said 234 people were arrested during the riots and of those, 198 cases are pending.