Hero instructor fought son in Wyoming college bow-and-arrow murder-suicide, police say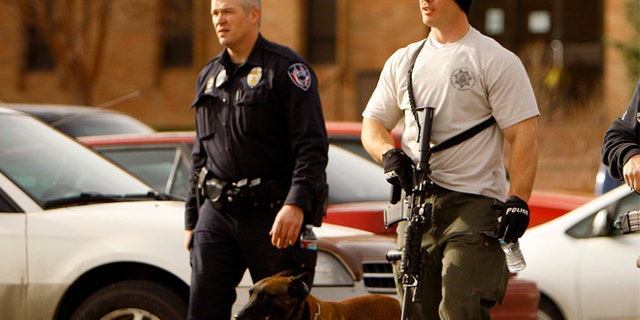 CASPER, Wyo. – Gravely wounded by an arrow fired into his head, a Wyoming college instructor still managed to wrestle with his 25-year-old son who carried out the attack and give his students time to flee the classroom, say police who hailed the actions as heroic.
More grisly details of the horrific murder-suicide in Wyoming came to light Saturday, a day after the younger man killed his father's live-in girlfriend and then barged into his father's computer science class and shot him in the head with a high-powered bow and arrow.
As James Krumm, 56, then fought with son Christopher Krumm of Vernon, Conn., during Friday's attack, the handful of students in the Casper College classroom escaped.
Christopher Krumm had just stabbed to death 42-year-old Heidi Arnold at the home she shared with James Krumm two miles away.
When police arrived at the classroom, they found Christopher Krumm bleeding from self-inflicted knife wounds and taking his last breaths.
James Krumm was dead, Casper Police Chief Chris Walsh said.
"I can tell you the courage that was demonstrated by Mr. Krumm was absolutely without equal," he said, adding that the instructor's actions could offer some measure of comfort to those affected by the killings.
Authorities believe "around six" students were in the classroom when Christopher Krumm entered, Casper police spokesman Justin Smith said. No students were hurt.
Walsh said police still were trying to figure out what motivated Christopher Krumm to attack his father and Arnold, a math instructor at the college. Arnold died of multiple stab wounds.
After shooting his father with the arrow, Christopher Krumm stabbed himself, then fatally stabbed his father in the chest in a struggle in the classroom, Walsh said.
Police began getting reports about the attack on Arnold soon after they responded by the dozen to the campus attack. Authorities locked down the campus for two hours while they scoured the grounds for any other attackers. They were reassured that Christopher Krumm acted alone.
He had smuggled the compound bow -- a type much more powerful and effective for hunting than a simple, wooden bow -- onto campus beneath a blanket, Walsh said.
He said Christopher Krumm also had two knives with him, and the knife used was "very large."
Arnold's body was found in the gutter of her street, and evidence suggested much of the attack occurred outside the home, Walsh said.
Neighbor Heather Meier said she came home from work Friday afternoon after picking up her 7-year-old daughter from school, and the two saw Arnold's body still lying in the street.
"As soon as we got home, we just shut the curtains," she said Saturday. "You know, tried to just watch some TV, have some snacks, mind our own business."
Across the street from her home, crime tape cordoned off Krumm and Arnold's faded blue and yellow house and part of the street. Meier, who has lived in the neighborhood for two years, said she met Arnold and James Krumm only once a few months ago and described them as quiet and very private.
Casper College instructor Kevin McDermott said Arnold and James Krumm were well-liked on campus.
"I knew these people pretty well, so it's hurting me. ... It's breaking my heart," said McDermott, who teachers algebra and computer networking at the school. "They were really good, kind-hearted people. People like Jim and Heidi are what make Casper College such a great college."
McDermott described James Krumm as a "real kind and gentle-mannered guy" who was well-respected by his students.
"Computer science majors took most of their classes from Jim. He was their adviser, and he had a big impact on them," he said.
McDermott added Arnold was a great teacher who "taught the tough stuff" and maintained a sunny disposition -- "a person who always had a smile on her face."
Chris Unruh, a student in one of Arnold's pre-calculus classes this fall, said she was a kind instructor who was excited about recently getting two dogs.
"She cared about her students," said Unruh, 18. "She wanted all of them to succeed."
Investigators said Christopher Krumm had recently driven to Casper from Connecticut and had been staying at a local hotel. He had no significant history of encounters with police.
Authorities were uncertain what went awry in his relationship with his father.
"It's difficult to say. I don't think it was very close," Walsh said.
In Vernon, Conn., police Sgt. Timothy O'Connor said officers executed a search warrant at Christopher Krumm's last known address Friday to help authorities in Casper. He didn't know what investigators were looking for or may have found at the home.
"Whatever was recovered will be turned over to Wyoming because it is an active investigation," O'Connor said.
Christopher Krumm's previous addresses include one in the western Massachusetts city of Springfield and others in the Colorado cities of Golden, Fort Collins and Lakewood.
Casper, population 56,000, is about 250 miles northwest of Denver and Wyoming's second-largest city after the state capital, Cheyenne. Wyomingites refer to Casper as the "Oil City" because it is a hub of the state's oil industry.
Casper College is one of seven colleges in Wyoming's community college system. The campus was mostly quiet Saturday morning. Fathers and sons shot hoops in the school gym. A small group of drama students rehearsed a play in the school theater just across the street from the attack.
The building where the attack happened remained cordoned off by police tape that whipped in a brisk wind. A security guard let students back in, one at a time, to retrieve belongings they'd left behind.
Andra Charter, a 20-year-old sophomore, emerged with a coffee mug. She recalled hearing screams outside her biology class before getting word about what had happened.
"As we were walking out, there was a girl screaming, `There's somebody stabbing Mr. Krumm!"' Charter said.
James Krumm was head of the college's computer science department. He was born north of London and also spent part of his childhood in Germany, according to the college website.
He held degrees from Casper College, a bachelor's degree and MBA from the University of Wyoming and a master's in computer science from Colorado State University.
Arnold held a master's degree in mathematics from the University of Oregon and a bachelor's degree in math from University of California Davis.
The college planned a candlelight vigil and memorial service Tuesday.