Hernandez focus of grand jury probe for 2012 double murder, report says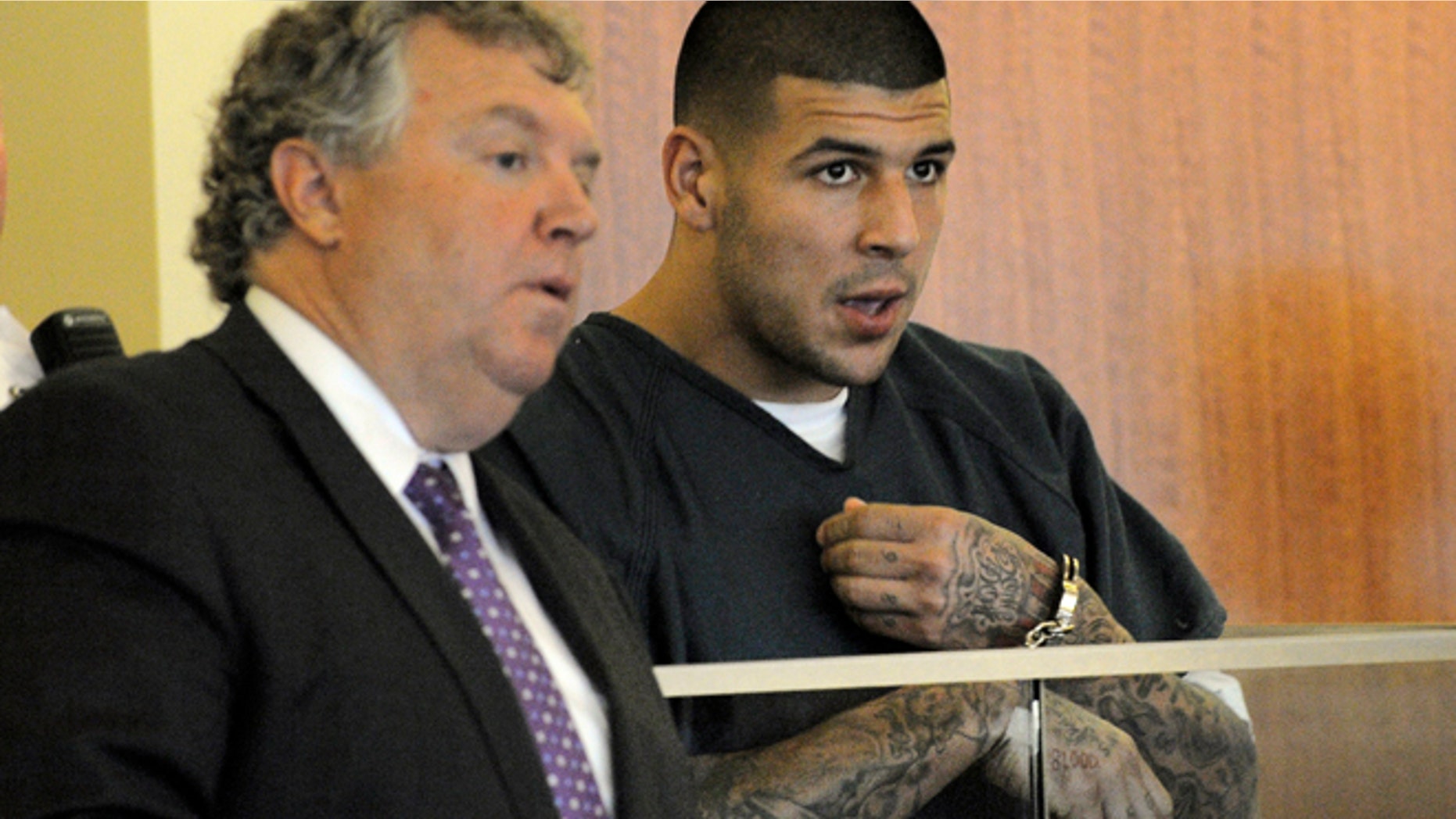 Prosecutors are presenting evidence to a grand jury that they say links former New England Patriot Aaron Hernandez to a 2012 double homicide in downtown Boston, MyFoxBoston.com reported.
Hernandez, who has already plead not guilty to murder in the death of a semi-professional football player whose body was found near his home on  June 17, could also end up facing an indictment in the murders of two men killed in a drive-by shooting, the report said.
"The case against Hernandez appears to be strengthening," an official told The Boston Globe.
The two men, Daniel Jorge Correia de Abreu, 29, and Safiro Teixeira Furtado, 28, were killed in the July 15, 2012 shooting and an unidentified third victim. Witnesses reported seeing gunfire coming from a gray SUV with Rhode Island license plates.
"The grand jury proceedings are by their nature confidential, and we do not comment on them or on open investigations," Jake Wark, a district attorney spokesman told the newspaper. One official told The Globe that since Hernandez is being held without bail, prosecutors are not in a rush to charge him with the other killings.
The official told MyFoxBoston.com that investigators believe Hernandez and the 2012 shooting victims were at the same Boston night club before the fatal altercation and police recently towed an SUV matching the witnesses' description from Hernandez's uncles's home.
Meanwhile, a probable cause hearing for Hernandez is scheduled for Wednesday afternoon in Attleboro District Court. He has pleaded not guilty to murder in the death of Odin Lloyd, a 27-year-old Boston semi-professional football player whose body was found June 17 in an industrial park in North Attleborough near Hernandez's home. Lyoyd had been shot five times.
Prosecutors say Hernandez orchestrated Lloyd's killing because he was upset at him for talking to people Hernandez had problems with at a nightclub a few days earlier.
They say he and two associates, Ernest Wallace and Carlos Ortiz, drove with Lloyd to the industrial park. Authorities have not said who fired the shots, but documents filed in Florida — and released since Hernandez's last court appearance — paint the former Patriot as the triggerman. According to the records, Ortiz told police that Wallace said Hernandez fired the shots.
Hernandez's lawyers say the case against him is circumstantial and he wants to clear his name.
Hernandez is being held without bail at a county jail.
Wallace and Ortiz also are facing charges. Wallace pleaded not guilty to a charge of being an accessory to murder after the fact. Ortiz has pleaded not guilty to a gun charge.
Click here for more from MyFoxBoston.com.
Click here for more from The Boston Globe.
The Associated Press contributed to this report