Heiress used family fortune to finance sex cult, feds say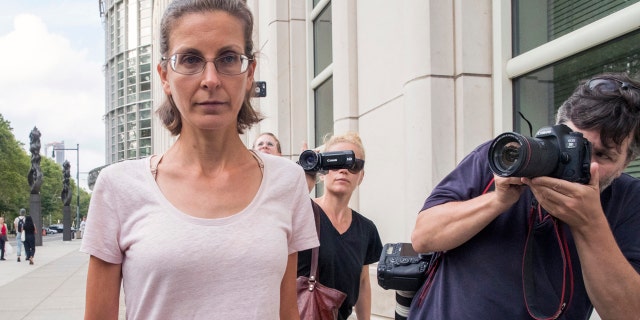 Seagram's liquor heiress Clare Bronfman used her family fortune to buy an entire island, the private plane to get there — and, the feds say, to bankroll a sex cult.
On Tuesday, the 39-year-old — who is worth roughly $200 million — was busted on racketeering charges for her role in running Nxivm, alongside three other high-ranking members.
The arrests are part of an ongoing federal investigation into the group's leader Keith Raniere and his right-hand woman, former "Smallville" star Allison Mack.
Raniere and Mack are charged with sex trafficking and conspiracy for allegedly coercing women into joining a secretive master-slave society within Nxivm— where "slaves" were forced to pleasure Raniere, have his initials permanently branded onto their skin and perform free labor.
In Brooklyn federal court Tuesday, a gaunt Bronfman pleaded not guilty to allegations she conspired with Raniere to steal email passwords from his "perceived enemies," racked up charges on the credit card of his dead ex-girlfriend and laundered money to help a non-citizen fraudulently gain entry to the US.
​Bronfman was part of an "inner circle" of loyalists who "committed a broad range of serious crimes from identity theft and obstruction of justice to sex trafficking, all to promote and protect Raniere and NXIVM," U.S. Attorney Richard Donoghue said in a statement.
​She faces up to 20 years behind bars if found guilty — a stunning change in circumstances for a woman who could have had anything in the world she wanted.
Bronfman and her older sister Sara are the daughters of late Canadian billionaire Edgar Bronfman Sr. and a British barmaid-turned-socialite 20 years his junior. She was his third of four wives — and they were the youngest of his seven kids.
Backed by hefty trust funds, party girl Sara spent her twenties flitting around the globe trying to find herself while the more serious Clare pursued a career as an elite equestrian show jumper.
Click here for more from The New York Post.