Heavy rain swamps portions of several Midwestern states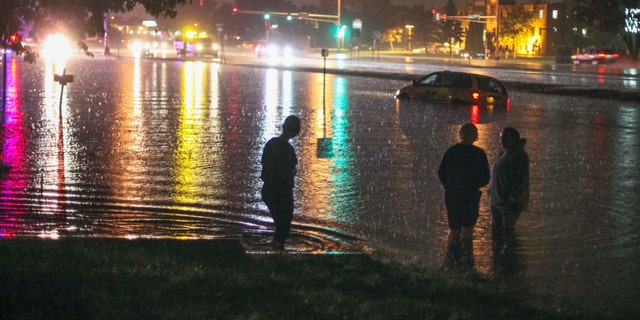 NEWYou can now listen to Fox News articles!
MINNEAPOLIS – It's a soggy start to fall for several Midwestern states, where heavy rain has flooded homes, closed major highways and stranded motorists.
In Minnesota, record-setting rainfall caused the Department of Transportation to fire up its snowplows to move standing water off major thoroughfares. As much as 8 to 10 inches of rain inundated the Twin Cities area Wednesday night with more rain forecast for Thursday.
Vehicles floated through intersections in several Twin Cities suburbs, including Maple Grove and Brooklyn Park. In downtown Minneapolis, the Minnesota Twins baseball game was delayed Wednesday night due to rain and then rescheduled for 1:10 p.m. Thursday, when it will be the first game in a split doubleheader.
About 75 miles to the south, several homes were evacuated in Waseca where nearly 14 inches of rain fell over two days, according to the National Weather Services. Classes were canceled Thursday in Waseca and several other school districts because of flooded roads.
In western Wisconsin, a portion of Highway 35 was closed because of mudslides, authorities said. Wisconsin emergency management officials said a train derailed Thursday along Highway 35 in Crawford County and 15 nearby residents were evacuated to the De Soto Community Center as a precaution.
More than 60 roads were closed because of flooding in Clark County to the north, where officials advised against travel. Neillsville, Granton, Greenwood and Loyal schools are among those closed Thursday, while others delayed the start of classes.
In Iowa, several northeastern counties were hit with flash flooding and more rain was expected Thursday. The storms could also produce hail and strong winds. Streets in Hawkeye were flooded as well as Highway 18 west of the community.
Heavy rain runoff and flooding from the Shell Rock River forced the evacuation of up to 10 homes in the northern community of Greene and firefighters rescued residents from five rural homes after streets in the area were swamped with up to 2 feet of water.
At least three tornadoes were reported Wednesday evening in parts of southern Floyd County and northern Butler County, according to the National Weather Service. Two machine sheds were destroyed southeast of Marble Rock, and trees were knocked down in several areas.