Hawaii volcano shooting lava 150 feet into the air, as emissions boost ER visits
NEWYou can now listen to Fox News articles!
The most active fissure from Hawaii's Kilauea volcano spewed lava up to 150 feet into the air on Monday, as the emissions from the ongoing eruptions are sending more residents to the hospital over respiratory issues.
The U.S. Geological Survey said that volcanic Fissure 22 produced a massive fountain of molten rock on Monday, and shared photos of the lava gushing into the air.
Fissure 22 continues to produce most of the lava feeding the flows that are now pouring into the sea, generating plumes of plumes of lava haze or "laze" as it interacts with seawater.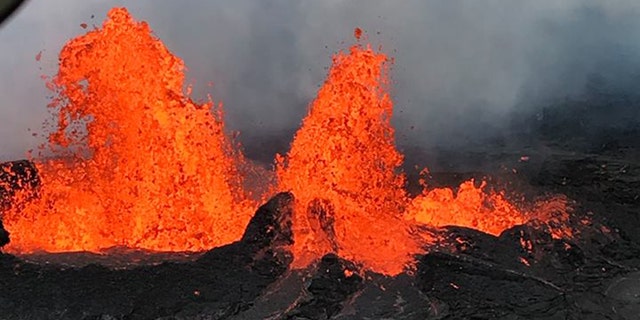 Hawaii County Civil Defense said on Monday that lava entered and then stalled on the property of a geothermal plant, the Puna Geothermal Venture. The plant harnesses energy from the volcano for electricity with underground wells that bring up steam and hot liquid, and which then feeds a turbine generator.
Officials earlier this month removed 50,000 gallons of stored flammable gas from the plant to reduce the chance of explosions, and 10 of the plant's 11 wells have been quenched, according to the agency.
"Efforts are ongoing to make sure the site is secure and the community is kept safe," Civil Defense said.
HAWAII VOLCANO LAVA FLOW NEARS GEOTHERMAL PLANT'S PROPERTY
Besides the gushing molten rock, ash plumes generated by eruptions and the ongoing laze carried by trade winds has affected several residential communities.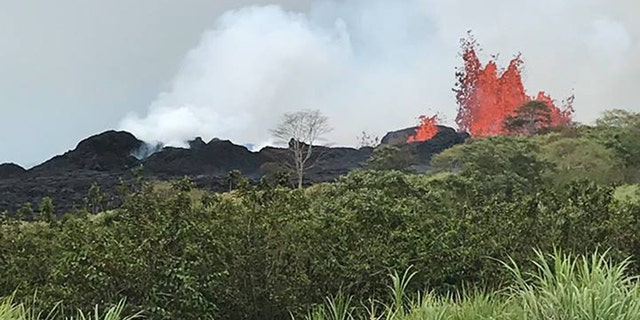 Kohala Hospital told Hawaii News Now that ER visits for respiratory problems have jumped 30 percent in the last week, even though the facility is nearly 100 miles from the ongoing eruptions.
The most common symptoms have been shortness of breath, coughing and congestion in the lungs, ER Dr. Josh Green told the news outlet.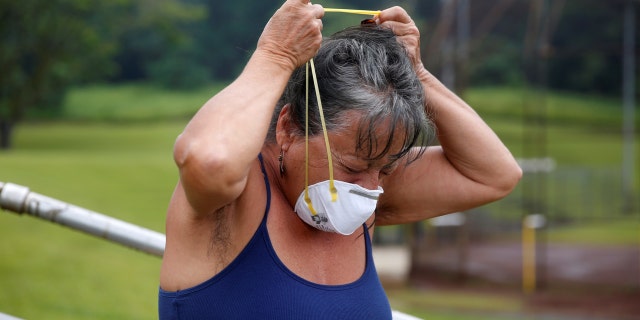 "The toughest cases I saw was when I was volunteering on the east side (of the Big Island). People were at the shelters and had a high dose of sulfur dioxide near their homes," Green said. "Those were the people that were by far the worst."
THE SCIENCE BEHIND HAWAII'S SURPRISING 2018 VOLCANIC ERUPTION
Green told Hawaii News Now a lot of the issues are coming from people with lung conditions not having access to their medications.
Authorities have warned those areas affected by the ash plumes to stay indoors with windows closed and to drive with caution.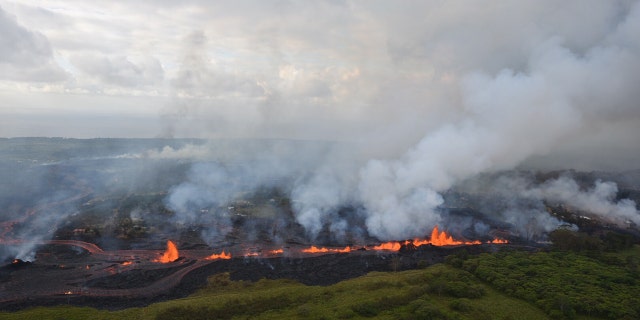 Kilauea volcano began erupting lava in the Leilani Estates neighborhood more than two weeks ago. The eruption has destroyed more than 40 buildings and forced more than 2,000 people to evacuate. A man was seriously injured on Saturday when he was hit with lava spatter.
No major injuries have been reported so far from lava haze. The USGS says laze contributed to two deaths in 2000, when seawater washed across recent and active lava flows.
Fox News' Edmund DeMarche and The Associated Press contributed to this report.