Hawaii man who sent false missile alert was '100 percent sure' attack was real
NEWYou can now listen to Fox News articles!
The Hawaii man who was fired after issuing the false ballistic missile alert in mid-January told reporters Friday that he was very upset over the incident but remained adamant that it appeared, at the time, to be a real-life attack.
The former state employee – a man in his 50s who asked to remain anonymous for his safety – said that he was "100 percent sure" that the drill on Jan. 13 was real, even though several other employees heard the word "exercise" repeated throughout the message, according to officials.
Once the man realized what had happened, he said he felt like he'd sustained a "body blow." Since then, he's reportedly been distressed to the point that he has had trouble eating and sleeping.
HAWAII WORKER WHO SENT FALSE MISSILE-ATTACK ALERT IS FIRED; EMERGENCY MANAGEMENT LEADER RESIGNS
During a news conference on Tuesday, investigating officer Brig. Gen. Bruce Oliveira shared details of the state's probe and said when the mistake was realized, the employee "froze" and "seemed confused." Another employee had to resume his duties and send a correction message, Oliveira said.
The employee also reportedly had at least two previous incidents in which he mistook drills for real-world events, including for tsunami and fire warnings. But Oliveira said the employee was previously counseled and allowed to resume his duties.
The ex-worker disputed that, saying he wasn't aware of any performance problems.
Following the event, the employee was fired and Vern Miyagi, who oversaw the Hawaii Emergency Management Agency, took responsibility and resigned.
SENATORS BLAST HAWAII'S 'INEXCUSABLE' FALSE MISSILE ALERT AT HEARING
Toby Clairmont, the agency's executive officer, also resigned before disciplinary action could be taken, and authorities are in the process of suspending another worker without pay.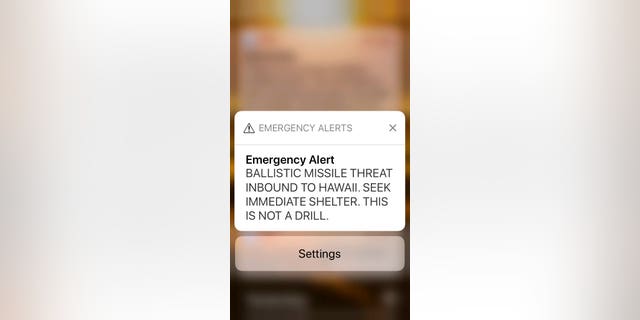 The emergency alert that was sent around 8:07 a.m. local time read: "BALLISTIC MISSILE THREAT INBOUND TO HAWAII. SEEK IMMEDIATE SHELTER. THIS IS NOT A DRILL."
By 8:20 a.m., Hawaii EMA tweeted there was "NO missile threat" to the state, but failed to send a phone alert for another 38 minutes, causing mass panic among people who weren't able to check social media.
Fox News' Katherine Lam and The Associated Press contributed to this report.