Hawaii man describes 'powerful and hot' lava bomb snapping his leg in half
As the nation was transfixed on the bright red lava spewing from fissures created by Hawaii's Kilauea volcano, one island resident told his frightening tale of getting too close to the molten rock -- and nearly losing a leg to a "powerful and hot" lava bomb.
The ongoing fountains of lava can be seen billowing from a volcanic fissure as Hawaii's Kilauea volcano as the 20th day of ongoing eruptions sends lava into the Pacific Ocean and threatens a geothermal power plant. Several volcanic fissures have reactivated this week after an explosive eruption at the summit of Kilauea on May 17, which caused a continuous lava flow.
The video livestreamed from Civil Beat shows bright orange lava spewing from the fissures in Lower Puna.
CLICK HERE TO WATCH THE LAVA CAM
Though officials have urged residents to steer clear of the molten rock, several people have been mesmerized by the volcanic activity.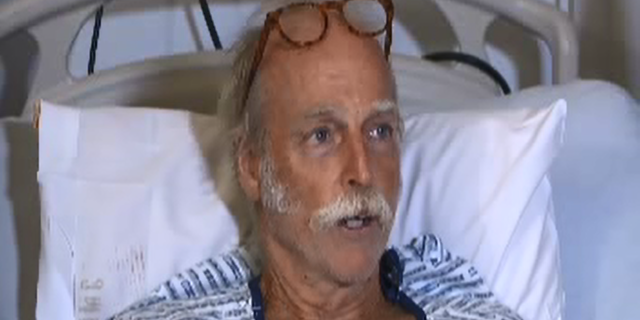 For Darryl Clinton, it's an "event of a lifetime" to watch the lava from the comfort of his home on the Big Island's Puna district.
"It was incredible. It was an event of a lifetime. Every aspect of the lava was there. The sounds, the sites, the flowing lava, the aa [a type of lava], the fissures, it was all happening at one time," Clinton told KHON.
HAWAII VOLCANO ACTIVITY PROMPTS NEW THREATS AS MAN SERIOUSLY INJURED FROM LAVA SPATTER
The California native, however, also got too close to the lava on Mother's Day. Clinton was standing on his roof of his home, where he lived for 12 years, when a lava bomb, also known as spatter, hurled toward him, KHON reported. He was initially on his roof trying to put out fires caused by flying rocks.
"It was the most forceful impact I've ever had on my body in my life," Clinton recalled. "I've been hit by big waves and various things. That was just incredibly powerful and hot. It burned."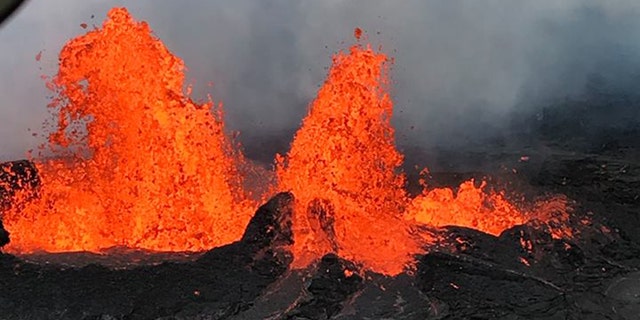 Clinton said he and a few other people had stayed behind after the evacuation order in Kapoho to keep the house from burning down. Just before getting hit with lava spatter, he heard an explosion a couple hundred yards away from fissure 17.
He said he felt a "hot solid" substance hit his shin. Janet Snyder, spokeswoman for the Office of the Mayor, had initially said the lava "shattered everything from there down on his leg."
"It was super painful and I don't know if I was in shock," Clinton told KHON. "I just think about my daughters, and I knew I was up on that roof and I was in really bad shape. My leg was in half, my bone was sticking out. There was blood squirting out."
Clinton said a friend who was with him wrapped his shattered leg in a bedsheet and dragged him down five flights of stairs. They called for help.
GEOTHERMAL PLANT IN HAWAII VOLCANO'S CROSSHAIRS BELIEVED BY SOME TO BE ON SACRED GROUND
The doctors were able to save Clinton's leg. He is now ordered to stay off of his injured limb for six weeks.
"The doctors did an amazing job. I can't believe they put it back together. I thought it was — I just wanted to live. I didn't care if they cut my leg off down there or not," Clinton said.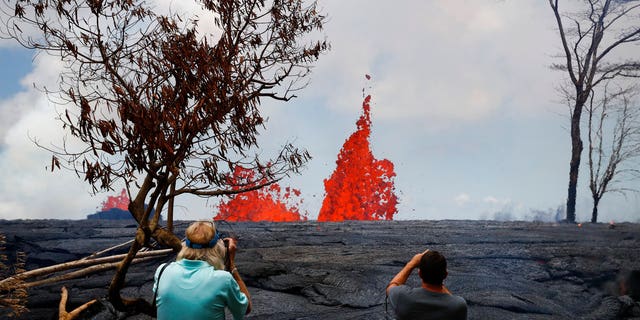 At least 23 fissures have opened since the eruptions, destroying nearly 50 structures. In some areas, lava has stacked up two-stories high and blocked Highway 137, a crucial route for residents to leave surrounding neighborhoods. Officials also warned of toxic plumes, called laze, after lava entered the ocean.
HAWAII VOLCANO SHOOTING LAVA 150 FEET INTO THE AIR, AS EMISSIONS BOOST ER VISITS
The activity on Wednesday came a day after workers at a geothermal power plant on Hawaii's Big Island raced to close off production wells that are now threatened by lava from a volcano that some residents fear could cause toxic steam to be released.
Despite the mesmerizing spectacle, Clinton, while sitting in a hospital bed, said: "I'm good on the lava, yeah."
Clinton said he doesn't know how long he will be in the hospital, but plans to return to his home.