Hats off to Danny: Football team rallies around bullied kindergartner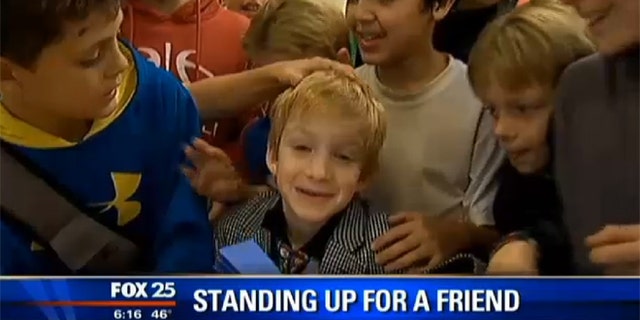 NEWYou can now listen to Fox News articles!
Some Massachusetts youths held an "appreciation day" for their football team's water boy after word surfaced the 6-year-old, who has a speech disorder, was being bullied at the local playground.
MyFoxBoston reports the heartwarming gesture last week began after Tommy Cooney, the 11-year-old quarterback of the Bridgewater Badgers of the Division 5 Peewee Football League in New England, heard team water coach Danny Keefe was being picked on.
Danny, 6, a kindergartner at Mitchell Elementary School, reportedly suffers from childhood apraxia of speech, or CAS, in connection with a brain hemorrhage he suffered shortly after his premature birth.
[pullquote]
The speech disorder, as well as Danny's choice to wear a suit and tie to school, as well as a fedora, has made him a target of some mean kids. Danny chooses the dapper duds to wear at Badgers games, too.
Jennifer Keefe, Danny's mother, told The Enterprise newspaper of Brockton, Mass., that her son was routinely teased by other children who pulled his hat down over his face and called him hurtful names.
Tommy Cooney, a Williams Intermediate School fifth-grader, shortly thereafter wore a suit to school in honor of Danny. Soon, Tommy took his show of support a step further, organizing a "Danny Appreciation Day," among the teams' members, as well as a handful of other students.
The act of friendship reportedly culminated last week when about 40 students gathered with Danny Keefe in the Williams school library to cheer him.
"This is the best day ever," Danny told The Enterprise as the students chanted, "Danny! Danny!"
"He's such a good person. He doesn't let it bother him. He goes on with his day. He's a 6-year-old kid. We should all respect that," added Tommy Cooney, whose father, Tom, coaches the Badgers.
Jennifer Keefe attended the "Danny Appreciation Day," as well, and thanked her son's pals.
"Look at what happened from one person," she told The Enterprise. "You all have this in you. You can pay it forward. If you ever have the opportunity to stick up for someone or be their friend, you should do that."
Click for the story from MyFoxBoston.com.