Harvey: Heavy rains, flood fears, likely tornado in Alabama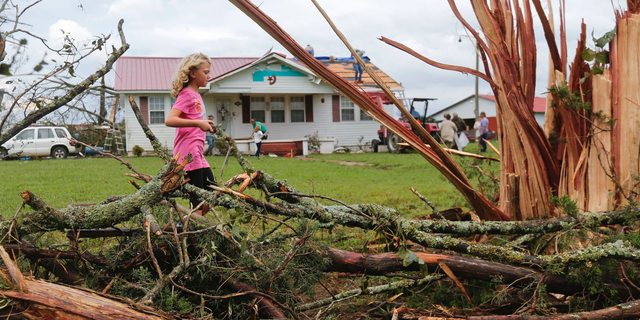 MEMPHIS, Tenn. – A likely tornado kicked up by Tropical Depression Harvey damaged homes and toppled trees in a rural area of northwest Alabama as remnants of the once-powerful hurricane scattered heavy rains and flooding fears around the Deep South.
The rains caused some flooding in low-lying streets in Memphis, as the western Tennessee city reported power outages late Thursday and rivers in the region swelled. Though still a tropical depression, Harvey also began to shed its tropical characteristics overnight as its rain bands extended further across Tennessee and Kentucky on its forecast path toward the Ohio Valley.
At 10 p.m. CDT Thursday, Harvey's core was located about 80 miles (130 kilometers) southeast of Memphis, Tennessee, the National Hurricane Center reported. The storm had maximum sustained winds of 30 mph (50 kph) and was moving northeast at 14 mph (23 kph). Forecasters said the storm would likely dissipate Saturday evening around Ohio.
Meanwhile, flash flood watches and warnings remained from northeast Arkansas into northern Mississippi, western Tennessee and much of Kentucky. That came as the storm slogged deeper into the nation's interior after its catastrophic drenching of parts of Texas and Louisiana, where severe flooding was continuing.
In northwest Alabama, an apparent tornado damaged several homes near the city of Reform and some minor injuries were reported, local news reports said. Jason Holmes, a meteorologist with The National Weather Service in Birmingham, said Thursday that a tornado was likely in the damage in northwest Alabama.
Photographs published online by the Tuscaloosa News in Alabama showed huge trees splintered and toppled, houses with their shingles torn away and one mobile home so shattered it was barely recognizable. Men with chain saws went out after the storm had passed to clear toppled trees from roads while others looked on at the damage.
Authorities said Harvey's remnants contributed to the death of a motorist involved in a head-on crash Thursday with a tractor-trailer on Interstate 40 in Memphis. The motorist's name was not immediately released.
More than 19,000 customers were without power in Memphis at one point Thursday evening, according to Memphis, Light, Gas & Water. The Tennessee Emergency Management Agency also was monitoring the storm and crews had cleaned debris from storm drains ahead of the storm's arrival.
Multiple tornado warnings were issued by the National Weather Service on Thursday afternoon in the region as Harvey approached. Sirens sounded tornado warnings in Memphis, but no touchdowns were reported.
In western Tennessee, flood warnings were in effect along or near several rivers, including two leading tributaries of the Mississippi River. Flash flood watches and warnings also stretched into Middle Tennessee. Forecasters said some spots in Tennessee could get more than 10 inches (250 millimeters) of rain though forecasts for most areas expected between 4 and 8 inches (100-200 millimeters).
About 4 inches (100 millimeters) of rain had fallen in Memphis during a 12-hour period ending at 7:15 p.m. Thursday, the National Weather Service said.