Harvey flooding forces new evacuations, as Houston braces for more rain
New evacuations were ordered Monday in the nation's fourth-largest city, as rising floodwaters that turned Houston streets into rivers navigable only by boat now threaten dams across the region -- while rescuers pleaded for more boats to reach residents trapped in their homes.
Tropical Storm Harvey, which made landfall late Friday as a Category 4 hurricane and has lingered dropping heavy rain as a tropical storm, sent devastating floods pouring into Houston on Sunday. The rising gray-green water chased thousands of people to rooftops or higher ground, and overwhelmed rescuers who could not keep up with the constant calls for help.
In a rescue effort that recalled the aftermath of Hurricane Katrina, helicopters landed near flooded freeways, airboats buzzed across submerged neighborhoods and high-water vehicles plowed through water-logged intersections. Some people managed with kayaks or canoes or swam. The death toll from the storm is at five.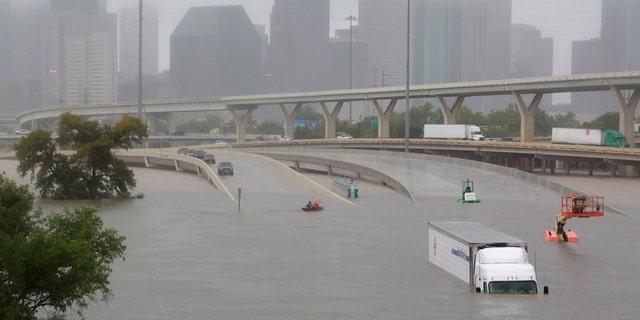 Harris County Judge Ed Emmett asked that anyone who has a boat or a high water vehicle to help out with rescue efforts in the Houston area.
"We desperately need boats and high water vehicles," Emmett said. "We can't wait for assets to come from outside."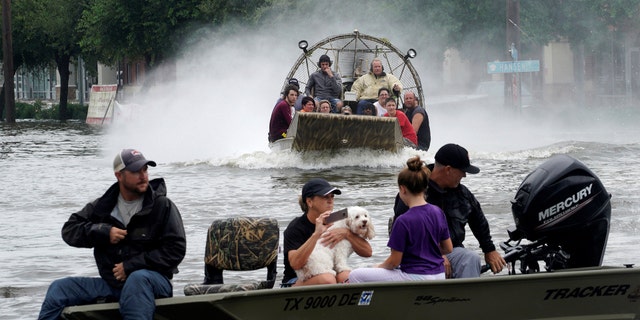 'WE'LL REBUILD' — ROCKPORT RESIDENTS HANG OLD GLORY ON COLLAPSED BUILDINGS TO SHOW STRENGTH AFTER HARVEY
In a new round of evacuations, residents living near the Addicks and Barker reservoirs — that were designed to prevent flooding in downtown Houston — were warned Sunday that a controlled release from both reservoirs would cause additional street flooding that could spill into homes.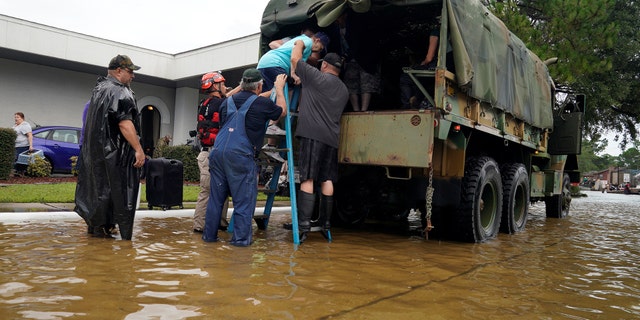 "The idea is to prepare ... pack up what you need and put it in your vehicle and when the sun comes up, get out," said Jeff Lindner, a meteorologist for the Harris County Flood Control District told the Associated Press. "And you don't have to go far, you just need to get out of this area."
The Army Corps of Engineers started the reservoir releases before 2 a.m. Monday — ahead of schedule — because water levels were increasing dramatically at a rate of more than six inches  per hour, a Corps spokesman Jay Townsend said.
Houston fire officials told Fox News there were over 5,000 rescue runs were made Sunday.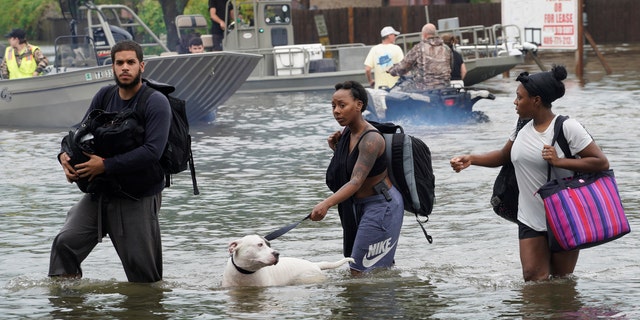 "I've been here my whole life. Lived through a couple hurricanes. It's insane," Chris Sillman, Senior Captain of the Houston Fire Department, told Fox News. "This flood over the past 27 months we had historical floods and now this. This is by far the worst, most catastrophic thing that has ever happened to this city."
Meanwhile, officials in Fort Bend County, located in Houston's southwestern suburbs, late Sunday issued widespread mandatory evacuation orders along the Brazos River levee districts. County Judge Robert Herbert said at a news conference that National Weather Service officials were predicting that the water could rise to 59 feet, three feet above 2016 records and what Herbert called an "800-year flood level."
Several hundred people arrived Sunday night at the George R. Brown Convention Center in downtown Houston, which officials are using as a shelter as floodwaters have inundated much of the city. The center was also used as a shelter for Hurricane Katrina refugees in 2005.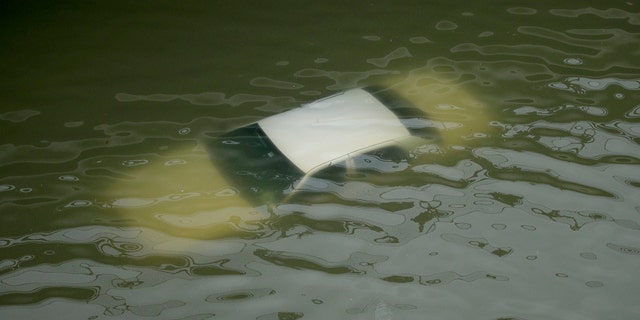 Gillis Leho arrived there soaking wet, telling the Associated Press she awoke Sunday to find her downstairs flooded. She tried to move some belongings upstairs, then grabbed her grandchildren.
"When they told us the current was getting high, we had to bust a window to get out," Leho said.
Some people used inflatable beach toys, rubber rafts and even air mattresses to get through the water to safety. Others waded while carrying trash bags stuffed with their belongings and small animals in picnic coolers.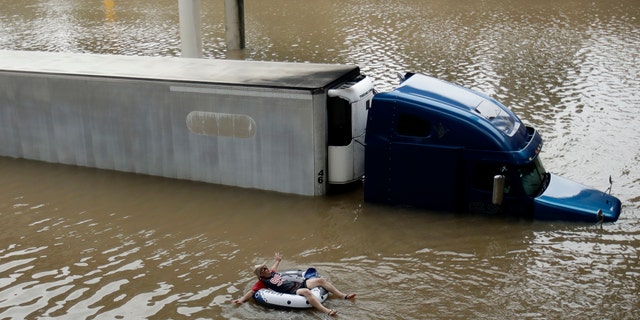 HOUSTON FATHER: 'HOW AM I SUPPOSED TO GET FIVE SMALL CHILDREN UP ON MY ROOF?'
D'Ona Spears and Brandon Polson walked with their five children, bags full of belongings, and their 7-year-old Chihuahua, Missy. They decided to leave once the water in the first story of their home reached their knees. Polson said the management at the complex wouldn't open a community building on site that had stayed dry as the apartments around it were flooding.
"As soon as you step out, a lot of cars are in the water," Spears said.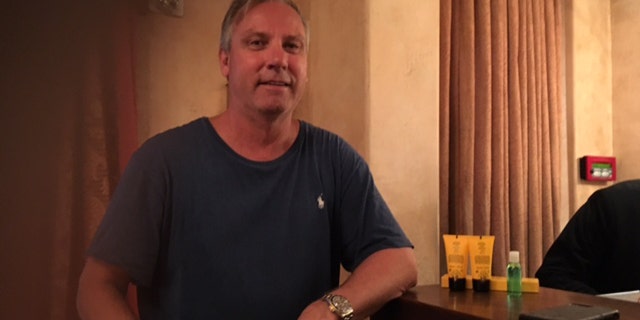 In the Galleria area west of downtown, Tom Schlueter told Fox News his new black 2017 Mercedes convertible, which has 25 miles on it, was under water.
Schlueter, who is 6 feet tall and lives in the Galleria area of Houston, said the water outside his house is up to his chin.
"I'm soaked and freaking out," he said.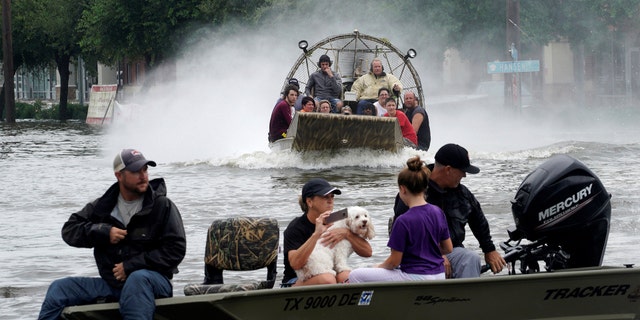 Schlueter and his wife had to be water rescued by the fire department from their home, after their living room, bedroom and kitchen were all at the mercy of Harvey.
Schlueter walked two blocks to the Granduca Hotel carrying only two pairs of clothes. The hotel supplied him with toiletries and other items.
The hotel, along with others in the area, are serving as makeshift shelters for their neighbors in need.The staff at the hotel have been stuck at the hotel too - many since Friday.
"We're a family. Of course we are going to help our neighbors," the front desk staff told Fox News.
In southeast Houston, Jesse Gonzalez, and his son, also named Jesse, used their boat to rescue people. When asked what he had seen, the younger Gonzalez replied: "A lot of people walking and a lot of dogs swimming."
"It's chest- to shoulder-deep out there in certain areas," he told television station KTRK as the pair grabbed a gasoline can to refill their boat.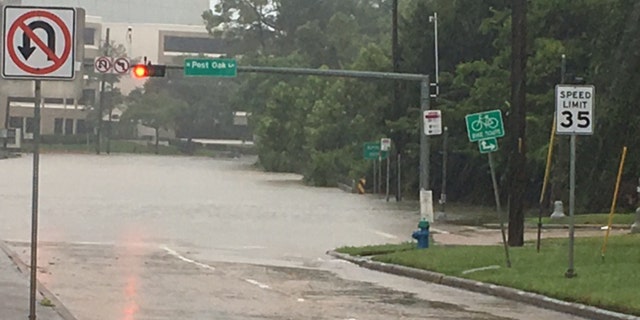 As of Monday, The Coast Guard deployed five helicopters and asked for additional aircraft from New Orleans.
FEMA Administrator Brock Long, who called the flooding a "landmark event," said Monday morning officials are anticipating over 30,000 people being placed in shelters temporarily.
"This is still an ongoing situation," Long said at a news conference. "We're not at recovery yet."
Acting United States Secretary of Homeland Security Elaine Duke said the need for help is great, and the agency is working to provide it.
"We are not out of the woods yet, not by a long slot," she said.
The White House announced that President Trump would visit Texas on Tuesday. He met Sunday by teleconference with top administration officials to discuss federal support for response and recovery efforts.
The rescues unfolded a day after Harvey settled over the Texas coastline. The system weakened Saturday to a tropical storm. By early Monday, Harvey had shifted a little closer to Texas, hovering about 20 miles east of Victoria, with sustained winds of about 40 mph. The National Hurricane Center said it continued to edge in a southeasterly direction at 3 mph.
Harvey was the fiercest hurricane to hit the U.S. in 13 years and the strongest to strike Texas since 1961's Hurricane Carla, the most powerful Texas hurricane on record.
Checks and money orders can be mailed to the Greater Houston Community Foundation, while online credit card donations can be made at www.ghcf.org. Online credit card donations will be assessed a small fee by the credit card companies. Donors have the option of increasing their credit card donations to cover this fee.
Fox News' Barnini Chakraborty, Matt Finn, and The Associated Press contributed to this report.