Harvard discrimination trial reveals Ivy League school's different SAT standards for Asian-Americans
Harvard University's dean of admissions has testified the Ivy League school applies different SAT score standards to prospective students based on factors such as race, but insisted the practice is not discriminatory.
Students for Fair Admissions, a group headed by legal strategist Edward Blum, sued Harvard in 2014 claiming Asian-Americans, who have the highest academic records, unfairly receive the lowest admission rate at the elite school.
Regardless of the outcome of the three-week, non-jury trial in Boston that began Monday, the lawsuit involving affirmative action and backed by the Trump administration is expected to reach the Supreme Court.
William Fitzsimmons, the 30-year dean of admissions, who oversees the screening process of about 40,000 applicants and narrows them down to 2,000 acceptance letters that are handed out each year, testified that African-Americans, Native Americans, and Hispanic high schoolers with mid-range SAT scores out of a possible 1600 combined math and verbal, are sent recruitment letters with a score as low as 1100, whereas Asian-Americans need to score at least 250 points higher – 1350 for women and 1380 for men.
"That's race discrimination, plain and simple," argued John Hughes, a lawyer for SFFA.
"It is not," Fitzsimmons shot back, adding that the school targets certain groups to "break the cycle" and convince students who normally wouldn't consider applying to the Ivy League school.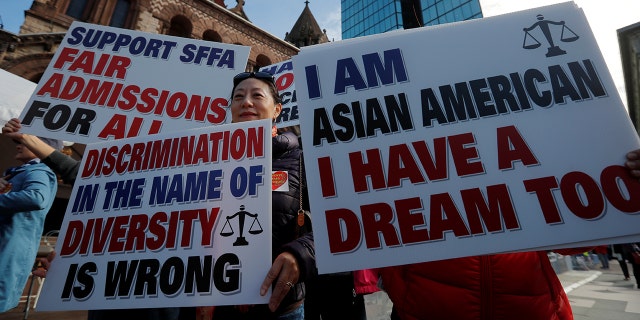 He said Harvard will admit white or unknown students with SAT scores as low as 1310 from states with more sparse populations, but not Asian-American students in the same area with similar scores.
"Harvard has engaged in, and continues to engage in, intentional discrimination against Asian-Americans," Adam Mortara, another attorney for SFFA argued, adding the school also gives Asian-Americans significantly lower ratings for certain personality qualities such as courage and likeability, compared to other groups. At the opening, he argued Harvard "let the wolf of racial bias in through the front door."
But William Lee, Harvard's lawyer and a member of its governing board, denied the allegation of discrimination and said race can only help the potential student because the school "never considers an applicant's race to be a negative."
The recruitment letters do not guarantee admission, but their recipients are twice as likely to get admitted into Harvard.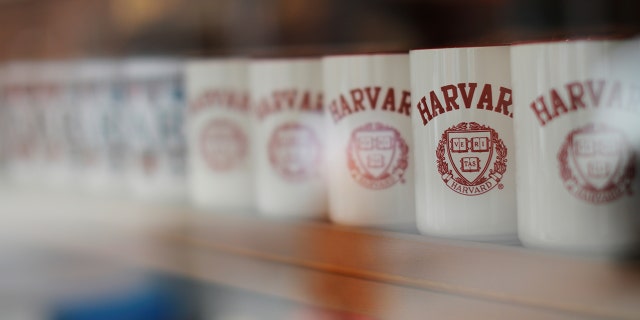 The case also highlighted that money and pedigree can open doors that academics alone might not, according to internal Harvard emails in which top university officials take special note of students with ties to major donors.
SFFA argues the so-called legacy preferences, which are common at elite colleges, discriminate against racial minorities, but Lee said it doesn't affect Asian-Americans.
While the practice is well-known, it has rarely been discussed as openly as the Harvard emails revealed Wednesday.
In a 2014 email, a men's tennis coach thanked the admissions dean after officials "rolled out the red carpet" for a possible recruit whose family had given $1.1 million, noting "it would mean a great deal" to see the student at Harvard.
A year prior, the admissions chief received praise from a Harvard graduate school dean for admitting certain students who were "all big wins." He singled out one with ties to a donor who had promised to help fund a building and school fellowships.
Emails suggest Harvard accepts relatives of alumni and donors even if they make poor candidates, SFFA argued.
But Fitzsimmons flatly denied the allegation. He said that they may make the "dean's list," which flags students of special interest, but they still get reviewed by a 40-person committee that makes final admissions decisions.
"It is important for the long-term strength of the institution, in that we have the resources we need to, among other things, provide scholarships," he added.
Both sides see the case as having long-term and far-reaching implications for American higher education.
Chinese-American Harvard graduate Lee Cheng, a lawyer for the Asian-American Legal Foundation, supports the lawsuit as a simple and straightforward case for the right not to be discriminated against based on race.
"It's about saying Harvard cannot set different and more difficult standards for admitting Asian students relative to students of any other ethnic group," Cheng said. "It's that simple – and it's undeniable that Harvard has."
Blum told Fox News he's confident after four years of evidence gathering that Harvard's race-conscious admissions policies are "unconstitutional."
Two Asian-American students supporting Harvard argued the case is about affirmative action and white supremacy.
Harvard senior Thang Diep, a refugee from Vietnam, released his marked-up Harvard application to testify in support of the Ivy League school, saying his SAT scores were below Harvard's average, but the interviewer was impressed by his personality, as well as his essay, which helped him.
Another senior student supporting the school, Sally Chen, who is Chinese-American, said she couldn't talk about her life experience without talking about the racism she's experienced.
"Who benefits from not being able to talk about their race in the admissions process are people who feel they have not experienced racism," Chen told the Guardian, "And for the most part, those are white applicants."
The trial follows a series of past court cases challenging the use of race in college admissions, a practice that generally has been upheld.
The Associated Press contributed to this report.