Hagel's departure could pave way for 1st woman leader at Pentagon as Flournoy heads shortlist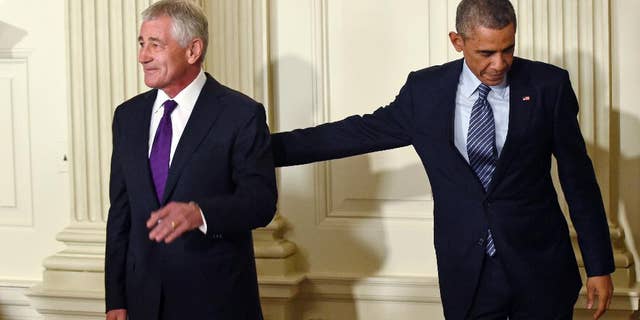 NEWYou can now listen to Fox News articles!
WASHINGTON – Michele Flournoy, formerly the Pentagon's policy chief and among President Barack Obama's more hawkish advisers, could be in line to become the first woman to lead the U.S. military after Defense Secretary Chuck Hagel's resignation.
Passed over by Obama for the job 20 months ago, Flournoy heads a short list of candidates to direct the war against the Islamic State in Iraq and Syria, and help Afghanistan fight the Taliban insurgency.
Other contenders include Ashton Carter, until last year the Pentagon's No. 2-ranked official, and Robert Work, Hagel's current deputy.
A spokesman for Sen. Jack Reed says he isn't interested in the job. Obama mentioned Reed Monday as he recounted a 2008 trip to Afghanistan with the Rhode Island Democrat and Hagel, then a Republican senator from Nebraska.