Hagel Visits Female Marines Training for Combat Roles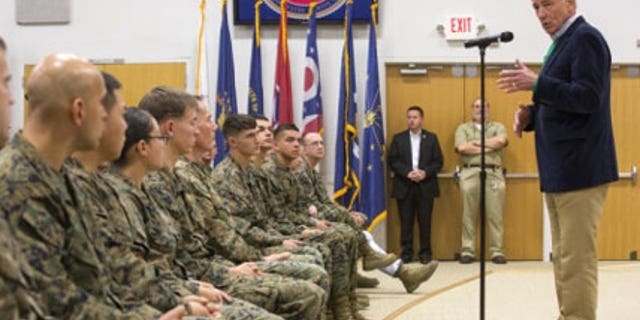 Defense Secretary Chuck Hagel traveled to Camp Lejeune, North Carolina, to meet the female Marines who are seeking roles in the infantry, armor and artillery that previously were restricted to men.
Hagel asked the women at a town hall meeting about their motivation to fight and work in the most grueling combat positions in the U.S. military.
The women told Hagel that they wanted to serve their country and also "wanted to do something special." He added that the Defense Department was working to ensure that there were no unfair limitations on "people who want to give that kind of service."
"It's the right thing to do" to open up military occupational specialties that previously were barred to women, Hagel said. He stressed that "we're not going to lower standards."
"If you're capable, if you're qualified, if you can do the job," then the position should be open regardless of sex, Hagel said. "I believe strongly that every individual deserves the same opportunity."
Earlier, Hagel observed training for the female Marines who volunteered for a Task Force to gauge their fitness for combat roles, and also accompanied them to a firing range for practice with the Shoulder-Launched Multi-Purpose Assault Weapon (SMAW), a small rocket launcher.
Hagel later tweeted: "They wouldn't let me fire one."
The female Marines were part of the Marines' Ground Combat Element Integrated Task Force (GCEITF) that was formed after former Defense Secretary Leon Panetta in January 2013 announced that the Defense Department was lifting the restrictions on women serving in ground combat roles. Panetta gave the services until January 2016 to implement the changes.
Army Gen. Martin Dempsey, chairman of the Joint Chiefs of Staff, said at the time that the service chiefs joined him in agreeing that "the time has come to rescind the direct combat exclusion rule for women and to eliminate all unnecessary gender-based barriers to service."
The GCEITF now consists of about 430 volunteers, about 25 percent of them women, in training and testing for the integration of women into combat infantry, armor, artillery and amphibious assault roles, said Capt. Maureen Krebs, a Marine spokeswoman.
The Marines expect to send their recommendations to Hagel on ground combat roles for women next fall, Krebs said.
-- Richard Sisk can be reached at richard.sisk@monster.com