Gunman kills 3, wounds 4th before being shot dead by police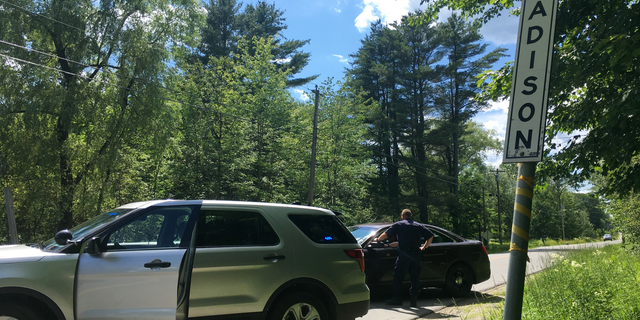 MADISON, Maine – A gunman shot and killed his partner, their adult son and a neighbor and wounded a fourth person before being fatally shot by deputies early Wednesday, leaving detectives at a loss to explain the outburst of violence, an official said.
Three deputies ended the rampage by shooting 51-year-old Carroll Tuttle in a confrontation in his driveway, said Steve McCausland, a spokesman for the Maine Department of Public Safety.
Detectives are now focused on determining what sparked "an extreme case of domestic violence," McCausland said.
"Our role now is to investigate exactly what happened and what set this gunman off," he said. "We don't have that answer. We hope to get it."
The shootings unfolded just hours after a neighbor said there had been a party with Fourth of July fireworks.
Deputies responding to an emergency call discovered the bodies and were present when Tuttle returned with a handgun, McCausland said.
Tuttle had killed his partner, 52-year-old Lori Hayden, and their son, 25-year-old Dustin Tuttle, at their home before killing a neighbor, 57-year-old Michael Spaulding, at his home a short distance away, McCausland said.
The gunman returned to the original location and wounded another relative before being shot and killed by deputies.
The attorney general's office sent investigators to the scene to review the use of deadly force by sheriff's deputies.
But Somerset County Sheriff Dale Lancaster stood behind the actions of his law enforcement officers to end the shooting.
"I have total confidence in the performance of my deputies," he said.
The couple lived in a trailer, and there also was a camper where other family members were living on the property, said a neighbor, Wayne Parlin. There had been a party on the Fourth of July with fireworks on the property, he said.
Lori Hayden was the daughter of Skowhegan selectwoman Darla Pickett and the sister of Skowhegan's finance and human resources director, Trisha Austin, the Morning Sentinel newspaper reported. Both declined to speak to The Associated Press.
The injured man, 57-year-old Harvey Austin, was a relative of Hayden's. He was undergoing surgery at a hospital in Bangor, McCausland said.
The shootings happened along a country road about 4 miles from the center of town in Madison, a town of about 4,800 residents in central Maine.
It was the deadliest shooting in Maine since November 2015, when a gunman killed his girlfriend and a 3-year-old girl's parents before taking his own life in Oakland. The 3-year-old girl was the only survivor of that rampage.
___
Associated Press writer David Sharp in Portland contributed to this report.