Gunman arrested at Trump resort in Florida after opening fire, yelling 'anti-Trump sentiment'
A man who police say was yelling "anti-Trump sentiment" was arrested early Friday after exchanging gunfire with officers in the lobby of a hotel at a sprawling golf resort that the president owns near Miami.
Yellow caution tape was seen stretched across the main gate of the Trump National Doral Golf Club Friday morning following the overnight rampage, in which the shooter, identified as 42-year-old Doral resident Jonathan Oddi, burst into the property for unknown reasons and draped an American flag over a lobby counter while spraying bullets.
"This guy was ready for war, he was waiting for our officers to come in," Miami-Dade Police Director Juan Perez told Miami radio station 610 WIOD.
Perez said Oddi was "yelling and spewing some information about President Trump." Although the exact words were unclear, Perez said it was an "anti-Trump sentiment" and the Oddi "had an American flag that he did drape over the counter."
Police say Oddi had taken the flag from the property and was firing a handgun at chandeliers and the roof of the lobby.
Oddi eventually was "neutralized" in a shootout with officers, suffering multiple gunshot wounds to the legs, but he currently is in stable condition at a local hospital, police added.
"It appears he was trying to engage our police officers… in some type of ambush-style attack," Perez said. "He prepared the area for battle."
Doral and Miami-Dade officers said they were called to the scene around 1:30 a.m. local time after receiving reports of an "active shooter" and immediately jumped into the fray.
"In my opinion, they probably saved a hell of a lot of lives today, because this could have gone a lot worse," Perez told 610 WIOD.
Eric Trump hailed the officers' response in a Twitter post Friday morning.
"A huge thank you to the incredible men and women of the @DoralPolice Department and @MiamiDadePD," he wrote.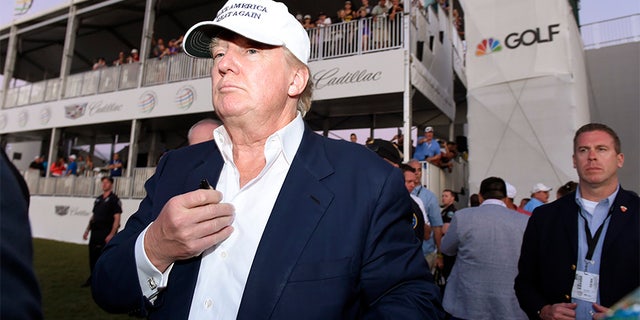 Perez also said a Doral officer suffered a broken wrist, but he is expected to be OK.
The Secret Service says it is on scene and helping in the investigation.
"The U.S. Secret Service is aware of shooting that took place early this morning at the Trump National Doral Golf Club in Doral, FL," it said in a statement. "Special Agents from the Miami Field Office are on the scene and working closely with our law enforcement partners."
Authorities also said they are not ruling out terrorism. Police told WPLG that the suspect repeatedly called 911 and was actively shooting in an attempt to draw authorities inside.
The golf resort previously known as the Doral Resort & Spa was purchased by the Trump Organization in 2012. The massive property has four courses – its most signature being the Blue Monster, which has hosted numerous PGA Tour and World Golf Championships events featuring the world's top golfers.
Court records in Miami-Dade and Broward counties show no felony arrests for Oddi, but a slew of misdemeanor traffic infractions.
David Jiminian told the Associated Press he lives in Cordova Phase II, the same gated complex where Oddi lives. Crime-scene tape marked off a driveway to the community and police cars were parked outside.
Jiminian said he has seen Oddi entering and leaving his garage but has never spoken to him. He also said Oddi drove a new sand-colored Jeep Renegade.
"It's pretty crazy," Jiminian said. "It's scary that it's so close to home." Jiminian added that he had never noticed any anti-Trump bumper stickers on Oddi's vehicle.
Fox News' Ellison Barber and the Associated Press contributed to this report.