Gun-shaped cell phone case prompts police standoff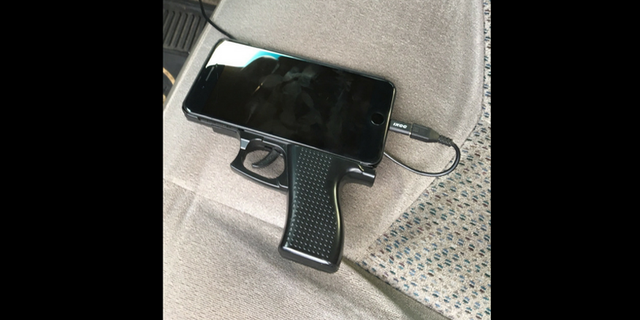 NEWYou can now listen to Fox News articles!
ALHAMBRA, CA – On Friday, Alhambra Police released this photo on their Facebook page, showing what appears to be an iPhone with a gun holder attachment, sitting in a car.
Earlier that day, The Alhambra Fire Department responded to a possible medical emergency in an Albertson's parking lot. After seeing someone unconscious or possibly sleeping in the seat, they noticed a device next to the driver, which looked like a gun next to the driver's hand. Once officers arrived, they called in a special forces team, and shortly after a standoff, the person surrendered (he was sleeping), and they checked the device which ended up being a cell phone case.
Although the situation ended peacefully, authorities were alarmed by the case looking like a gun. Alhambra Police wants to get the message out that folks should reconsider carrying items that look like weapons in public, since an incident like this could have easily ended tragically.