Gulf Coast braces for impact as Alberto threatens flash floods
The first named storm of the 2018 hurricane season intensified Sunday off the west coast of Florida, as the threat of rain and rough surf kept some vacationers off beaches along the eastern Gulf Coast during the busy Memorial Day Weekend.
The National Hurricane Center said in its 8:30 p.m. ET advisory that Subtropical Storm Alberto now has top sustained winds of 65 mph, and is located about 195 miles west of Tampa, moving northwest at 10 mph.
"On the forecast track, the center of Alberto will move over the northern Gulf of Mexico tonight and cross the northern Gulf Coast in the warning area on Monday," the center said.
Forecasters also warned of potentially dangerous storm surge as high as 4 feet along much of Florida's Gulf Coast, from Crystal River to Navarre.
A subtropical storm like Alberto has a less defined and cooler center than a tropical storm, and its strongest winds are found farther from its center. Subtropical storms can develop into tropical storms, which in turn can strengthen into hurricanes.
TRACK THE STORM AT MYFOXHURRICANE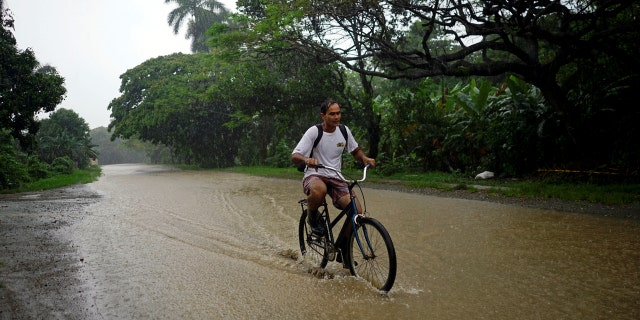 Gusty showers were to begin lashing parts of Florida on Sunday, and authorities were warning of the possibility of flash flooding.
The governors of Florida, Alabama and Mississippi all declared states of emergency ahead of the storm.
Beaches in Florida were largely empty ahead of Memorial Day as Alberto approached the northern Gulf Coast carrying brisk winds and heavy rain.
The storm disrupted long holiday weekend plans from Pensacola in the Florida Panhandle to Miami Beach on Florida's southeastern edge. Lifeguards posted red flags along the white sands of Pensacola Beach, where swimmingand wading were banned amid high surf and dangerous conditions.
It also triggered mandatory evacuations of some small, sparsely populated Gulf Coast barrier islands in one Florida county: The Florida Division of Emergency Management said in a statement Sunday that a mandatory evacuation has been issued in Franklin County for all barrier islands there and those in the county living directly on the coast in mobile homes or in recreation vehicle parks.
A news release from Florida Gov. Rick Scott said that for Taylor County, "Voluntary evacuations have been issued for those in coastal zones and beach communities (Keaton, Dekel, Cedar, Dark Islands), mobile homes, RV parks and low-lying areas."
STORM ALBERTO PROMPTS EMERGENCY DECLARATIONS IN ALABAMA, FLORIDA, MISSISSIPPI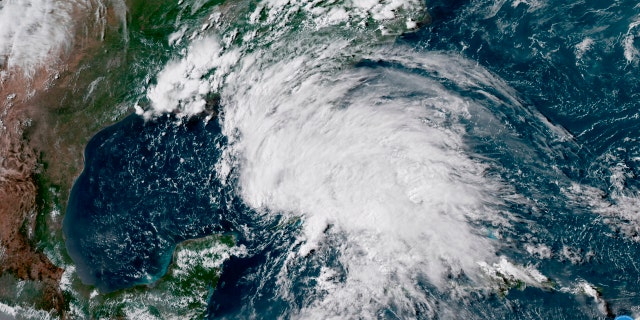 Many who had made plans for the holiday weekend in Pensacola told Fox News on Sunday they have no plans to cut their vacations short.
"Just another day of living in Florida, hurricane season starting up here soon," Kissimmee resident Nelson Humphrey said. "It's a little early, but it looks like it's going to be a lot of rain."
Pensacola resident Lisa Perks told Fox News the surf was "extremely rough."
"We have been in the water, and it is extremely rough, a lot worse than we thought it was. Not only was it hard getting in, but it was worse getting out of the water," she said.
Under overcast skies and occasional drizzle, several Gulfport, Mississippi, residents lined up on Saturday to fill 10- and 20-pound bags with sand they will use to block any encroaching floodwater expected as a result of Alberto.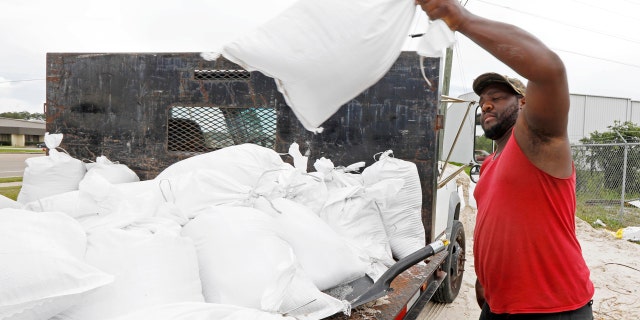 2018 ATLANTIC HURRICANE SEASON TO BE 'NEAR OR ABOVE-NORMAL,' NOAA SAYS
Tommy Whitlock told the Associated Press that sandbagging has become a usual event in his life since he lives next to a creek.
"I'm doing this because every time we have a hard rain, it floods at my house," Whitlock said. "We get water from other neighborhoods, and water can get up to a foot deep in some places."
Fox News' Jonathan Serrie in Pensacola, Florida, Mike Arroyo, Zoe Szathmary and The Associated Press contributed to this report.