Group calls on defunding 'sanctuary' universities, Napolitano's ouster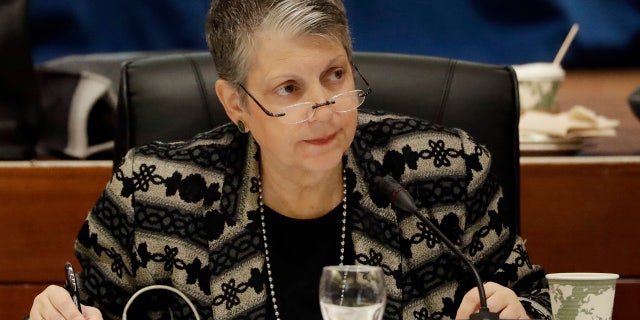 A Los Angeles-based group is set to begin its "No Sanctuary Campuses" campaign Friday that calls for state universities that refuse to cooperate with federal officials on illegal immigration to be defunded and the ouster of the school system's president, Janet Napolitano.
The David Horowitz Freedom Center plans to target 11 state schools and wants Napolitano--the former head of homeland security-- to be "prosecuted for sedition," David Horowitz, the organizations founder said in a post online.
The campaign calls for wanted posters that feature the pictures of Napolitano and Cal State University Chancellor Timothy White to be place on campuses. The signs would also call on the campuses to be defunded.
"Sanctuary campuses are not only part of a radical attack on America's social, political, and educational establishment but a dagger aimed at the rule of law and the nation's safety," Horowitz said in the online post.
The group said its mission is to defend "free societies whose moral, cultural and economic foundations are under attack by enemies both secular and religious, at home and abroad."
This is not the first time Horowitz has caused commotion at a San Diego school. In April, he reportedly placed posters at the San Diego State University campus accusing some students of supporting terrorism, the San Diego Union Tribune reported.
Alyssa Madruga is a news editor for FoxNews.com. Follow her on Twitter @AlyssaMadruga.