Groundbreaking ceremony for Freedom Riders Park to be held in Alabama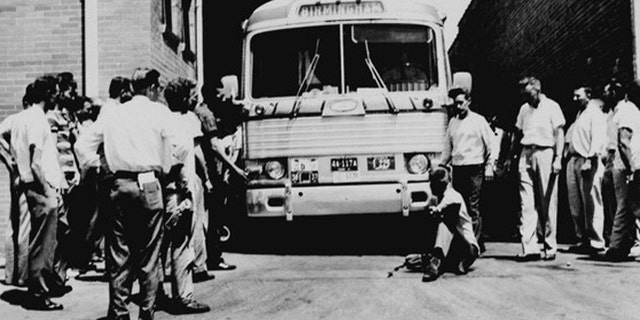 NEWYou can now listen to Fox News articles!
A groundbreaking ceremony will be held next week in Alabama to commemorate the location where an iconic Freedom Riders bus was burned more than 50 years ago.
On May 14, 1961, on a trip designed to test a Supreme Court decision banning segregation interstate bus segregation, seven members of the Congress of Racial Equality (CORE) departed from Atlanta on a Greyhound bus. An angry white mob met the bus at a station in Anniston, Ala., where its tires were slashed and windows were shattered. The bus driver later stopped to change a tire and the bus was set on fire as passengers were attacked as they fled. Related attacks in Birmingham drew national and international headlines, leading to a crush of new Freedom Riders, many of whom were jailed.
"It was an event that fueled the civil rights movement in a very positive way," said Pete Conroy, co-chair of Freedom Riders Park. "It was a bad day that created a more positive future."
The park's design has yet to be finalized, but its four-plus acres on Highway 202 near Anniston between Atlanta and Birmingham, Ala., will contain the exact location where the bus was burned, changing the course of the nation's civil rights movement.
"This is going to be an outdoor park focusing on this piece of the puzzle," Conroy said. "The tone will be entirely positive."
Freedom Rider Bill Harbour, one of the first to exit a bus in Montgomery, where he reportedly encountered a mob of 200 people wielding pipes and baseball bats, survived the riots but saw his life changed forever, beginning with his expulsion from Tennessee State University.
"This will be a place for education, contemplation and reflection that shows how a bad event triggered good things, unity and wonderful partnerships," Harbour said in a statement.
The two-part event, which is free and open to the public, will also feature musical and guest presentations. Other Freedom Riders, including Charles Person and Hank Thomas, will also be on hand, as will Janie Forsythe McKinney, who, as a young girl, brought water to Thomas as he fled a burning bus.
The event will continue later that evening at Jacksonville State University's McClellan Center, where opera singer K.B. Solomon will present a tribute to singer-civil rights activist Paul Robeson.
"I'm so pleased to have the opportunity to visit my Anniston home, experience the excitement of a new unity and perform to what is sure to be my favorite audience ever," Solomon said in a statement.
Last year, roughly 40 college students selected from nearly 1,000 applicants joined some of the original Freedom Riders on an eight-day journal from Washington, D.C., through the South. One of those students, Charles Reed Jr., even skipped his college graduation to make the trip.
"What the Freedom Rides did 50 years ago paved the way for what I have today as an African-American," said Reed, a then-21-year-old business administration major at the University of Mary Washington in Fredericksburg, Va.
Congress of Racial Equality head James Farmer, six other black people and six white people participated in the first Freedom Ride, which left Washington, D.C., on May 4, 1961. The trip was aimed to test whether southern states were implementing Boynton v. Virginia, a U.S. Supreme Court decision that barred segregation in public-transportation facilities.
The Associated Press contributed to this report.