Griffith Park: Deadly Los Angeles car wreck snarls Interstate 5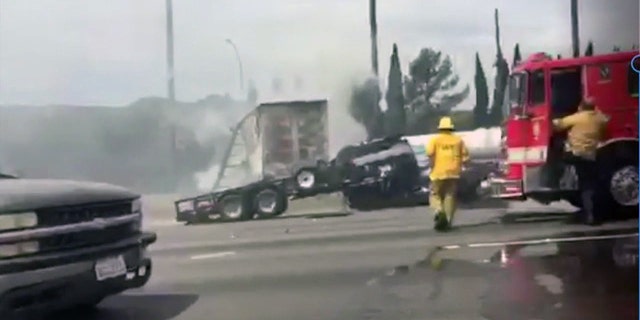 NEWYou can now listen to Fox News articles!
Two big trucks and several smaller vehicles collided on Interstate 5 just north of downtown Los Angeles Tuesday, killing one person and injuring 10 others.
The wreck just before 11 a.m. local time forced the closure of the freeway in both directions as flames raged through the wreckage strewn across the southbound lanes.
Los Angeles Fire Department spokesman Brian Humphrey told Fox 11 that a preliminary report indicated that a northbound pickup truck went out of control, crashed into a vehicle and crossed over the center divider. The vehicle then either collided with or caused a southbound big rig to crash and catch fire.
One of the injured was in critical condition, and the other nine had minor injuries, said Humphrey. A dog also was killed.

Most of one tractor-trailer and the cab of a tanker truck were obliterated by the time Los Angeles and suburban Glendale firefighters extinguished the fire.
A small sedan was left wedged under the remains of the big-rig trailer and a pickup truck was perched partially atop the center divider wall. Other vehicles were also involved.
There was no immediate indication of what caused the wreck on a section of I-5 dubbed the Golden State Freeway between landmark Griffith Park and the Los Angeles River.
Interstate 5 is part of web of interconnected freeways and is a corridor for long-distance trucking and travel as well as heavy commuter traffic.
The Associated Press contributed to this report.
Click for more from FoxLA.com.