'Green Lives Matter' college course title has some critics seeing red
Black Lives Matter has taken offense at police saying "Blue Lives Matter" and others who say "All Lives Matter," but now a Wisconsin school is risking ire by branding a class on environmentalism "Green Lives Matter."
The course at University of Wisconsin at Green Bay will encourage students to support the "environmental justice movement" by "the merging of civil rights and environmental concerns." But even Scott Furlong, the dean of social sciences at the school, acknowledged that the class name plays on what has become a loaded term.
"Timing is everything," he told FoxNews.com in an email. "When developed…politicizing the name of the class was not front and center for us."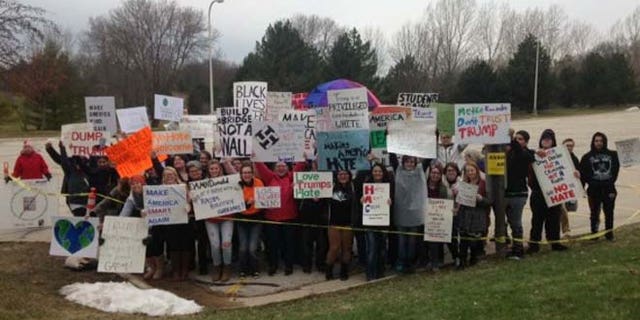 Furlong said the university's diversity director and course professor, Elizabeth Wheat, chose the title earlier this year, as the Black Lives Matter movement built strength and members began to take umbrage at variations on the phrase.
Although Furlong admitted the "world landscape since that time has changed," the university will stand by the title, but remain open to an adjustment if pressed by offended students.
"The name doesn't come across as very sensitive to me due to the BLM movement and the controversy," said recent UWGB graduate Nathan Fiene, who organized an anti-Donald Trump rally last semester that was heavily attended by Black Lives Matter protesters.
However, Chrissy Bartelme, former environmental affairs chair of the UWGB Student Government Association, said the school should politicize what it calls the "green lives movement."
"The name 'Green Lives Matter' should not push away students, but rather encourage them to learn about those impacted by environmental hazards," she told FoxNews.com in an email. "The class name should have no effect on what the students will learn."
Taught mostly by instructors "of color, women, and blue collar sectors of society," the course fulfills a general education requirement for incoming freshmen, who will learn about topics like "migrant farm worker pesticide exposure" and "urban environmental harms."
Although he disagrees with the "highly questionable" title, Fiene applauded the content of the course material for shedding light on perceived racism within environmental policies.
Environmental consultant Tracy Thomas agreed, adding that "green" causes support the very goals of the Black Lives Matter movement.
"'Black Lives Matter' and 'Green Lives Matter' share one common thread-contiguity," she told FoxNews.com, pointing to a historical tendency for blacks to live in worn and neglected environments.
'Green Lives Matter' isn't the only eccentrically named course offered at the school-university administrators encourage faculty to develop creative titles for mandatory freshmen seminars, according to Furlong.
Freshmen can also choose to enroll in "Food Politics," "The Science and History of Monsters" and "From Disney's Pocahontas to the NFL: Stereotypes and the Realities of the First Nations People."