Great white shark suspected in Cape Cod beach attack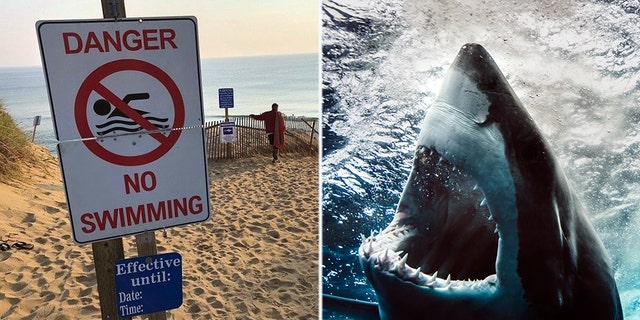 A great white shark is being eyed in a close-to-shore attack at a Cape Cod beach that left a New York man injured.
William Lytton, 61, of Scarsdale, NY, was airlifted to Tufts Medical Center in Boston after he was bitten by a shark while wading about 30 yards off Long Nook Beach in Truro, Massachusetts. He was being treated for puncture wounds to his torso and leg. The hospital said he remained in serious condition and his family has asked for privacy.
The beach was closed and will remain closed until the weekend, officials said.
US OFFICIALS: EX-ISIS FIGHTER ENTERED US AS A REFUGEE
Greg Skomal, a shark expert, said he planned to speak with Lytton and examine his wounds to determine if he was bitten by a great white shark. Numerous great white sightings have been reported in the area.
The last shark attack that occurred in Truro was in 2012 when a Colorado man in Ballston Beach was bitten. He was treated and received 47 stitches.
Town manager Rae Ann Palmer said several shark sightings were reported Thursday, but she did not have details. The area is a feeding ground for seals, which draw sharks. A few witnesses reported seeing seals before the attack.
ALLEGED PROSTITUTE ESCAPES WISCONSIN POLICE AT 108 MPH
Despite the public's fear of sharks, the odds of being killed by one are roughly 1 in 3.7 million, according to the National Aquarium in Baltimore.
The Associated Press contributed to this report.