GRAPHIC VIDEO: LAPD releases video of officer being shot at point-blank range during traffic stop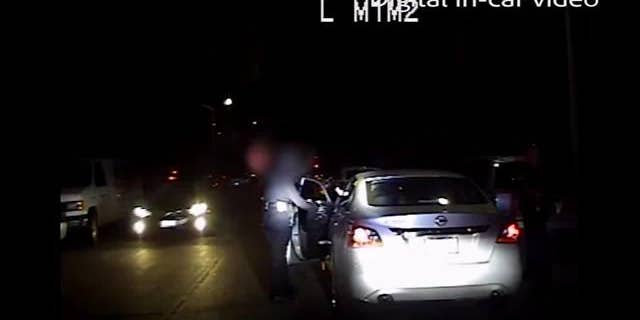 The Los Angeles Police Department on Monday released graphic video footage of July 28 shootout that occurred during a routine traffic stop that resulted in the injury of an officer and the death of the suspect.
The police officers seen in the video were not identified and the events leading up to the shooting appeared routine. The female officer-- who approached from the drivers' side-- worked in the gang unit and apparently knew the suspect.
The officer asked the driver to exit the car, at which point he could be seen pulling out a .380-caliber handgun and firing just inches from the officer. She could be seen falling to the ground and her partner-- who was at the passengers' side-- returns fire, mortally wounding gang member Richard Mendoza, 32, according to Fox 11.
The Los Angeles Times reported that Mendoza was hit multiple times in his head a torso and died later at a nearby hospital.
The shooting occurred in Mission Hills in the San Fernando Valley at about 10:15 p.m., the report said. The female officer was hit in the leg. She is recovering, police said.
The report said the LAPD has been releasing videos from "critical incidents."
"By the grace of God she is alive," LAPD Chief Michel Moore told the paper. "Officers are fearful in these situations and the public here gets to see why.
"Once a person has you in that position it is very tough," he said. "You cannot stop that first one or two shots."
Retired LAPD Sergeant Mike Sayre told Fox 11 that the video is a good example of how quickly police officers have to respond.
"So, that means you have to be able to identify a problem, react to it and neutralize it within 3 seconds. That's quick."