Grandfather, 92, beaten with brick and told to 'go back to your country,' reports say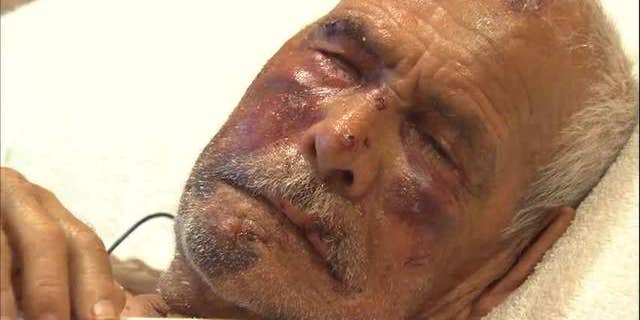 Authorities are hunting for several suspects after a 92-year-old grandfather was beaten with a brick on July 4 and told to "go back to your country,' reports said.
Rodolfo Rodriguez was visiting Los Angeles, Calif. from Mexico on July 4 when he was hit several times in the face with a brick and stomped on, leaving him with two broken ribs, a broken cheekbone and bruising throughout his body, Fox 11 reported.
The incident began when Rodriguez accidentally bumped into a woman's child while walking down the street, Rodriguez's grandson Erik Mendoza told Fox 11.
"And when he turned his back they just tossed him on the floor and she started hitting him, and then she grabbed a brick and started hitting him with the brick, and then out of nowhere he saw three to four other guys just come rushing and just start stomping on him," Mendoza said his grandfather told him.
A witness began recording the incident involving Rodriguez and a woman and four men. She intervened in an attempt to stop the attack.
A woman told KCBS a witness said the attackers also began yelling racial slurs.
"When I take the picture, she said, 'Oh, he tried to touch my girl.' I saw everything, this is a lie. And when the guys came, they hit him in the face, his body, everything," the woman told the news site.
"[They said] 'Go back to your country, why are you here?' Bad things," she said, quoting the witness.
Rodriguez was taken to the hospital and is recovering from his injuries.
"I'm just overwhelmed how anybody can do this to a human being at all," Mendoza said. "He's 92 years of age. There's no harm that he meant for you to treat him the way you did."
Police have made no arrests as of Tuesday. They believe Rodriguez was attacked from behind.
The family has set up a GoFundMe page for Rodriguez as he recovers in the hospital.