Grand Jury Indicts 20 in Alleged Gun Smuggle Ring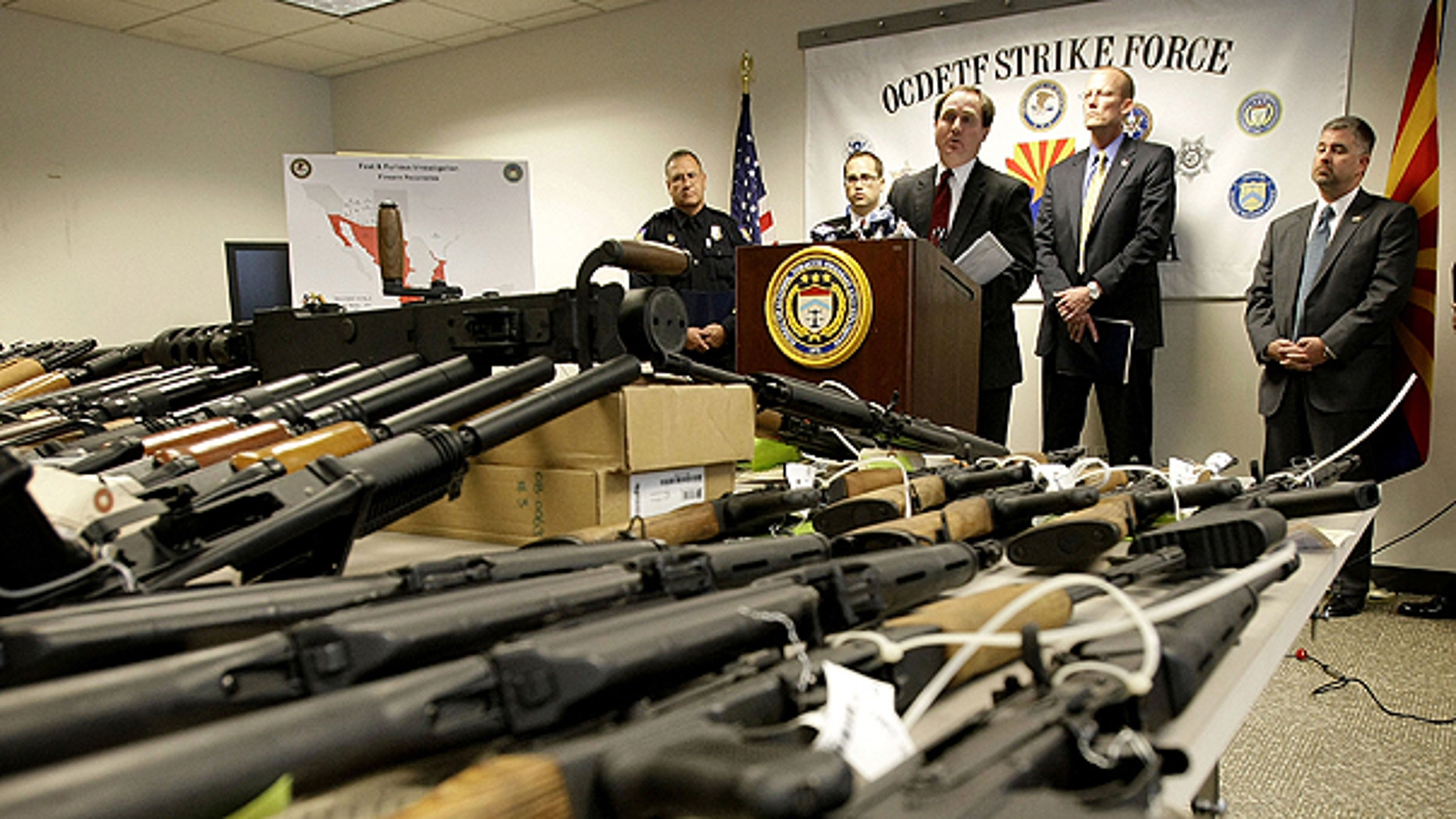 PHOENIX -- Twenty people face federal firearms charges for participating in a ring that bought more than 700 guns to be smuggled into Mexico for use by a drug cartel, according to an indictment unsealed Tuesday.
The charges target two suspected leaders of the ring and "straw buyers" who authorities say were recruited to buy guns on behalf of smugglers.
Most of the guns identified in the indictment were sold by one gun store in suburban Glendale, Arizona. The store and its operators weren't charged.
One man is accused of buying 239 assault rifles and pistols for the ring. Another was told by ring leaders to try to get back 20 AK-47s that had been confiscated by police, the indictment states.
Dennis Burke, the U.S. attorney for Arizona, said "straw buyers" believe their purchases are harmless but should know their help for gun traffickers is contributing to violence in Mexico's drug war.
"The drug cartels go shopping for their war weapons in Arizona," Burke said.
Authorities said the ring is believed to have supplied the Sinaloa cartel with guns, and that some of the weapons bought by the group were used in shootings in Mexico. In all, 560 guns were recovered, a third in Mexico and the rest mostly in Arizona.
Many guns recovered in Mexico come from America's four southern border states. Drug smugglers seek out guns in America because gun laws in Mexico are more restrictive than in the United States.
Mexicans must get approval for a gun purchase from the Mexican defense department and are limited to guns of .38-caliber or less. Larger calibers are considered military weapons and are off-limits to civilians.
Most of the guns identified in the indictment came from Lone Wolf Trading Co. in Glendale. A man who answered the phone at the store declined to give his name and said the store and its owner had no comment.
The indictment states that Uriel Patino, who is accused of buying 239 weapons for the ring, bought all but nine from the Glendale store.
The indictment states that some of the guns bought by Patino were found in February in an SUV abandoned near the US-Mexico border on the Tohono O'odham Nation land, where smugglers exploit vulnerabilities at the international line.
No lawyer was listed in court records for Patino. Candice Shoemaker, an attorney for Jaime Avila Jr., a suspected leader of the ring, declined to comment on the indictment.
Authorities say there is nothing illegal about gun shops selling guns to people who meet the requirements for owning a weapon. But Burke expressed frustration at the willingness of some dealers to sell guns to suspicious buyers then cooperate with investigators.
"Sometimes it might be a gun shop owner saying, Hey, I just sold this guy 10 AK-47s. Of course I sold them, and now I'm going to tell you that I'm a little suspicious about it," Burke said.
The Bureau of Alcohol, Tobacco, Firearms and Explosives has asked the White House to require gun dealers near the Mexican border to report the sales of two or more higher powered rifles to the same customer within a five-day period. The agency's request has yet to be approved.