GoFundMe scam? How a homeless man, New Jersey couple's alleged fake sob story unfolded
From heartwarming to hoax in less than a year?
Officials say the viral story of a homeless man's selfless act — giving his last $20 to a stranded motorist — was actually an elaborate ruse designed to enrich a scheming threesome, who pocketed nearly half a million dollars in donations before a squabble over the money unraveled the plot.
A 2017 tale about a Philadelphia man's compassionate gesture was, in fact, only the basis for a scam, according to a complaint obtained by NBC 10 Philadelphia. New Jersey couple Kate McClure and Mark D'Amico publicly posted about Johnny Bobbitt's alleged good deed and started a GoFundMe campaign to "thank him." But the group's greed ended up doing them in, officials said.
Investigators claim the three deceived donors by preventing them from gaining information "that would affect their judgment about solicited contribution to that fundraising effort," the news station reported. The trio was charged with theft by deception and conspiracy to commit theft by deception on Nov. 15, Burlington County prosecutors announced.
COUPLE'S GOFUNDME CAMPAIGN FOR HOMELESS MAN WAS A FAKE: PROSECUTORS
Here's what you need to know about the year-long saga, and how the three may have swindled thousands out of cash.
Alleged hoax, November 2018
The New Jersey couple and the homeless man are now facing charges for allegedly concocting a fake story that led them to a $400,000 profit, a source familiar with the case told NBC 10. The charges carry prison time of up to 5 to 10 years.
D'Amico and McClure surrendered Wednesday night. Bobbitt is jailed in Philadelphia.
"The entire campaign was predicated on a lie," Burlington County prosecutor Scott Coffina said. "It was fictitious and illegal and there are consequences."
COUPLE WHO CREATED GOFUNDME FOR HOMELESS MAN TOLD FRIENDS STORY WAS 'COMPLETELY MADE UP': PROSECUTORS
Coffina said almost no part of the tale was true. Rather, the group met near a Philadelphia casino a month before sharing the fake story.
Less than an hour after the couple set up the page to solicit donations, McClure sent a text message to a friend acknowledging the story was "completely made up," prosecutors said.
"I had to make something up to make people feel bad," McClure said in a text — one of 60,000 reviewed by prosecutors — to a friend.
Couple under investigation, September 2018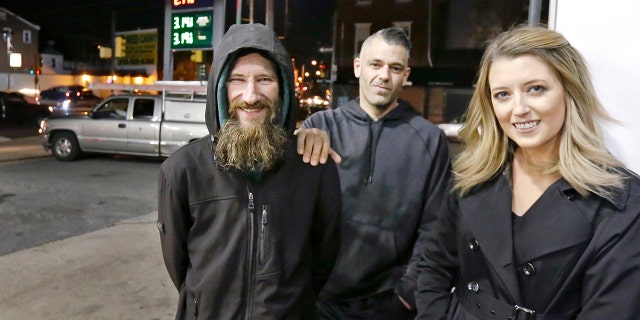 What happened to all that cash? That's the question that surfaced in September 2018, nearly a year after McClure said Bobbitt helped her.
In a lawsuit against McClure and D'Amico, Bobbitt claimed the couple mismanaged the $400,000 promised to him, spending the money to fund their lavish lifestyle. Instead of giving Bobbitt a consistent "salary," he claimed they deposited the funds into their own bank account and began spending the money right away.
"They went on shopping sprees," Bobbitt's attorney, Jacqueline Promislo, told The New York Post on Sept. 9. "[Bobbitt] tells me they had a Louis Vuitton bag and Chanel sunglasses, a new iPhone 10."
HOMELESS SAMARITAN WILL GET CASH; COUPLE UNDER INVESTIGATION
The New Jersey couple vehemently denied the allegations, claiming they simply didn't want to give Bobbitt the money due to his ongoing drug problem. D'Amico said Bobbitt spent $25,000 in less than two weeks in December on drugs, in addition to paying overdue legal bills and sending money to his family. The pair's lawyer said Bobbitt was given about $200,000 already, despite Bobbitt's lawyer's claiming the man had only received $75,000.
In a joint statement on Sept. 7, GoFundMe and the law firm representing Bobbitt vowed he would get the full amount of the money raised, one way or another.
Meanwhile, McClure and D'Amico's Florence, New Jersey home was searched by police, who said the found a new BMW, jewelry and money.
Lawsuit filed, August 2018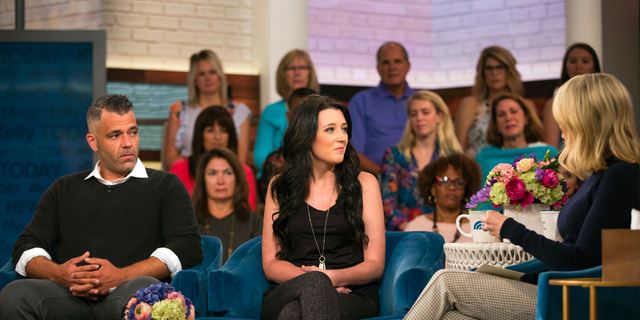 Days after McClure and D'Amico appeared on NBC's "Megyn Kelly Today" show, Bobbitt filed a lawsuit against the couple seeking undisclosed damages.
Christopher C. Fallon, one of Bobbitt's lawyers, told The Philadelphia Inquirer legal action was taken after D'Amico ignored multiple requests for a full accounting of the money raised by the GoFundMe campaign.
HOMELESS VETERAN WHO HELPED STRANDED WOMAN SAYS HE CAN'T GET GOFUNDME CASH FROM COUPLE
"He's really left us with no choice but to go forward," said Fallon, one of two lawyers from Cozen O'Connor in Philadelphia whom Bobbitt retained last week. The attorneys were working pro bono.
In the NBC interview, D'Amico told Kelly there was well over $150,000 left of the donations. But Bobbitt said that wasn't true.
"Struggling with addiction," April 2018
Roughly five months after Bobbitt's story went viral, the Philadelphia Inquirer followed up with the man to see how he was doing. While he had found a way to get off the streets, Bobbitt's story was not as bright as it appeared months earlier.
Instead of a house, Bobbitt told the newspaper he opted for a camper, which he apparently parked on land the McClure's family owned. His "dream truck," he claimed, was broken. And he still hadn't found a job.
Bobbitt said he was still struggling with drugs and returned to rehab.
"I didn't get involved in drugs overnight," Bobbitt said. "It's going to be a struggle for the rest of my life."
New home, December 2017
In early December, Bobbitt and McClure's story went national. Media outlets across the country were sharing their story, and Bobbitt — who said he was a recovering drug addict — revealed how his life had changed.
"Three weeks ago … I was homeless on the streets of Philadelphia," Bobbitt told The Philadelphie Inquirer, while a photographer snapped pictures of the pair. "I really didn't have any hope, didn't know what my future was."
The 34-year-old man told the newspaper donations from more than 14,000 people allowed him to find a home in New Jersey, a cell phone, computer and used truck.
"We're not angelic people looking for a cause."
McClure's boyfriend, D'Amico, explained how the money would be distributed to Bobbitt in the coming years.
"We're not angelic people looking for a cause," he told the Inquirer, adding, "It's like we had a child instantly."
Homeless "hero," November 2017
In early November 2017, McClure, then 27, shared a touching story about her car ran out of gas on I-95 and a homeless man came to her rescue. She said a man named "Johnny" walked over to her car, instructed her to keep the doors locked and returned with a red gas can, which he purchased with the last $20 he had on him.
"Johnny did not ask me for a dollar, and I couldn't repay him at that moment because I didn't have any cash, but I have been stopping by his spot for the past few weeks," McClure posted on a GoFundMe page. "I repaid him for the gas, gave him a jacket, gloves, a hat, and warm socks, and I give him a few dollars every time I see him. I wish that I could do more for this selfless man, who went out of his way just to help me that day. He is such a great guy, and talking to him each time I see him makes me want to help him more and more."
The young woman then shared a photo of herself with the man, posing on the side of the road with piles of trash visible in the background. She asked followers to help support him so his life "can get back to being normal."
And sure enough, donations started to pour in. Within days, McClure surpassed her initial $100,000 goal. By the end of November that year, more than $350,000 was raised for the supposed good Samaritan, a Marine veteran.
McClure said the funds would go toward buying Bobbitt a home and his "dream truck," as well as establishing two trusts set up in his name and his own bank account. She added he would allocate some of the money to go toward charities that helped him through his "rough patch."
"This is a well thought out plan that Johnny his lawyer and financial advisor came up with in order to give Johnny the means to acclimate back into a 'normal' life and also to protect him and ensure he has a bright future," McClure continued. "I hope this will answer all the questions we have been getting about his plans."
Bobbitt, who was becoming a personal "hero" to many, even set up an Instagram account called "Johnny's Journey," where he updated "fans" about his latest adventures. More than 10,000 people follow the account.
Fox News' Amy Lieu and The Associated Press contributed to this report.