'God Bless America' signs fly after atheist group targets post office banner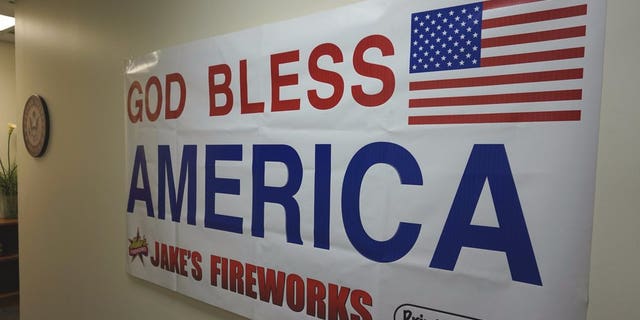 A Midwestern community has united in a show of patriotism after an atheist organization targeted a local post office's "God Bless America" poster.
Freedom from Religion Foundation cried foul after the group noticed a "God Bless America" banner that employees at a post office in Pittsburg, Kan., had erected after Sept. 11, 2001. A lawsuit filed by FFRF on behalf of a Pittsburg resident forced the banner down in late January, The Christian Post reported.
But the sign's removal after nearly 15 years of display had an unintended effect.
When news of the banner's banishment spread, a business in the area, Jake's Fireworks, printed 1,200 "God Bless America" yard signs and 300 banners. Jake's gave away all of the signs within 45 minutes, according to the Post.
"Obviously, we're among the majority that didn't agree with the decision to take the sign down," retail sales director Jason Marietta told The Morning Sun.
But not all residents supported the post office flying the banner.
"Let's call a spade a spade," Bert Patrick wrote in a Letter to the Editor for The Morning Sun. "The sign was removed because the postal officials realized, most likely after consulting legal counsel, that the sign's message violated the First Amendment, which prohibits the government from supporting any religion."
Sen. Jerry Moran, R-Kan., however, said the Constitution guarantees "freedom of religion, not freedom from religion."
"It is outrageous that some would aim to divide a community over a banner that has been proudly displayed since Sept. 11, 2001," Moran wrote on Facebook. "I commend the Pittsburg community for rejecting this decision and I stand with them."