Girl with leukemia taken from Phoenix hospital appears safe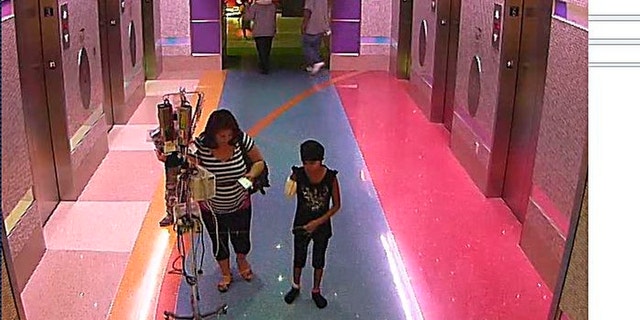 PHOENIX – The family of an 11-year-old leukemia patient whose mother unexpectedly took her from a Phoenix hospital last month has a history of removing the child from medical facilities against the advice of doctors, police said Wednesday as the parents claimed the girl was being treated in Mexico.
The child, Emily, had been receiving chemotherapy at Phoenix Children's Hospital for about a month before her mother removed her on Nov. 28 while she was still being treated. An infection forced physicians to amputate her right arm and insert a catheter through her chest to deliver medications.
The child's mother removed an IV tube from the device and took her from the hospital, concerning doctors that she could succumb to a deadly infection, said police Sgt. Steve Martos.
Since then, Emily's parents have refused to provide police in Arizona with any information on the child's whereabouts or treatment, but her mother and father have asserted in television interviews that she is under the care of doctors in Mexico. The girl appeared in an interview Wednesday on ABC's "Good Morning America," the first time police have seen her since she was taken from the hospital.
"I am here, and it kind of feels good because the doctors really love me so much," said a bright-eyed and smiling Emily, who wore a pink, knitted cap in what appeared to be a medical facility that wasn't identified.
Martos said that until Emily's parents provide authorities with proof that the child is safe, their investigation will remain open, and criminal charges are still being considered, given what he called a troubling pattern of potential medical neglect.
He said the girl's father was in Phoenix on Wednesday and was interviewed by detectives but refused to provide any information about her whereabouts.
"There's a simple solution. Provide us with information that Emily is not at risk of dying due to infection," Martos told The Associated Press, adding that authorities are reviewing whether there is "some neglect or abuse on behalf of the parents if they're failing to provide proper medical care."
He said Emily's parents have previously twice removed her from separate California hospitals against the advice of her treating doctors, and that the child was in "unbelievably horrible medical shape" when she arrived last month at the Phoenix facility.
Border Patrol agents stopped the family's car in October as they were crossing from Mexico into Arizona and noticed Emily appeared extremely sick, Martos said. The child was immediately transported to a hospital in nearby Yuma, then flown to Phoenix Children's Hospital, he said.
"These are some of the red flags that cause us some concern," Martos said. "Obviously there are questions we have as to how well they have been taking care of this child."
The mother, Norma Bracamontes, appeared with her daughter Wednesday on ABC and blamed the hospital for complications that led to her daughter's arm being amputated. The family and Emily were being intimidated by the hospital over bills, she said.
"Emily, you're not going to go home because your mom and dad, they haven't filled (out) all the forms, so blame them that you're going to remain here stuck in the hospital," Norma Bracamontes said hospital officials told her daughter.
Phoenix Children's Hospital released a statement Wednesday, saying privacy laws prevent officials from disclosing patients' financial information or details regarding treatment.
"However, we steadfastly disagree with the assertions brought forth regarding the quality of care Emily received and will vigorously defend our actions regarding her treatment," the statement read.
Hospital spokeswoman Debra Stevens said clinical decisions are never based on ability to pay and Phoenix Children's provides services either free or at reduced rates to patients who can't afford them.
"Emily's health and well-being continues to be our primary concern," Stevens said in an email to the AP.
"Children with her condition require ongoing treatment and monitoring, so we invite her current physician to contact Emily's Phoenix Children's pediatric oncologist to ensure continuity of care. This is customary when a patient seeks a second opinion or moves from inpatient to outpatient care."
Emily's father, Luis Bracamontes, said last week in an interview with NBC News that his daughter was safe and being treated by doctors in Mexico.
"Unfortunately they are still being uncooperative with us," Martos said. "It's bizarre that they will talk to the media but at this point are unwilling to talk to investigators."