Gillum says he supports Israel; DeSantis gets Pence's help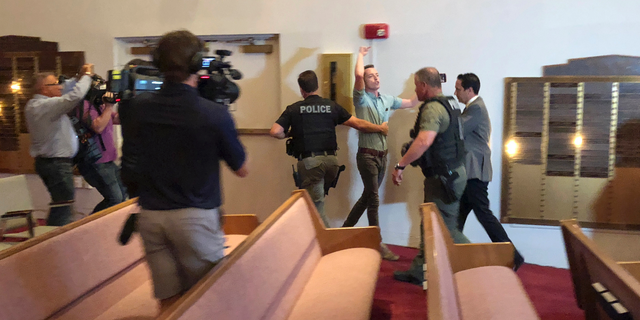 PLANTATION, Fla. – Florida Democratic gubernatorial candidate Andrew Gillum pushed back Thursday against Republican accusations that he is anti-Israel, telling a crowd at a synagogue that support for the Jewish nation must be bipartisan and not used as a "wedge" issue for political gain.
The Tallahassee mayor told about 500 people at Temple Kol Ami Emmanu-El near Fort Lauderdale that he will not appoint anyone who supports a boycott of Israel, and he backs funding to provide security to Jewish schools.
Gillum told the crowd of mostly supporters that he is a "deep and unapologetic supporter of Israel" and has visited the country three times. During one visit, a trip to Haifa had to be cancelled because missiles were being fired into that city from nearby Lebanon.
"It was my first glimpse of what it meant for a family to have to worry about what it meant to be safe and secure and have to worry about your own protection out of fear that maybe one of those missiles might land on your family," he said. "It crystalized for me what is a very clear and present danger." He said he will "stand up any time ant-Semitism rears its head."
Meanwhile, Republican candidate Ron DeSantis got support Thursday from Vice President Mike Pence, who told a Jacksonville rally that the former congressman "has been one of the strongest advocates for the Trump administration and President (Donald) Trump."
"DeSantis is a principled leader with a proven record," Pence said. "Gillum, you've got just one more voice for the resistance. His policies look more like Bernie Sanders' Vermont than the Sunshine State."
Gillum needs Jewish support in South Florida to win on the Nov. 6 race that will likely be decided by a few percentage points. Broward County, where he spoke Thursday, is Florida's second most-populous county and most Democratic — the party's presidential and gubernatorial candidates typically get two-thirds of the vote. It also has the largest Jewish population — about 8 percent of the county's population is Jewish and 56 percent are registered Democrats, compared to 17 percent Republicans, according to the Jewish Federation of Broward County.
DeSantis spoke at Temple Kol Ami earlier this month, telling the audience he would be "the most pro-Israel governor in America." He said he supported Trump's transfer of the U.S. embassy to Jerusalem from Tel Aviv and called attending May's opening ceremony "awesome."
He said he would never accept support from groups that call for a boycott of Israel, referencing Gillum's association with the Dream Defenders. In June, Gillum signed the left-wing group's pledge not to take campaign donations from the National Rifle Association and private prison corporations. On its website, Dream Defenders says Israel is a "colonial entity" built on "stolen Palestinian land."
Opposition to Israel is "nothing more than warmed over anti-Semitism," DeSantis said, according to the South Florida Sun-Sentinel.
Gillum said Thursday he does not support Dream Defenders' position on Israel. DeSantis wants to place "every decision made by that group on Andrew and make him carry it," Gillum said.
Gillum was introduced by local U.S. Rep. Debbie Wasserman Schultz, who got emotional as she briefly talked about her name appearing in the return address on 10 suspicious packages sent to prominent Trump critics. One of the packages was delivered to her Florida office Wednesday when it was returned by the Postal Service, and the former national Democratic Party chair said her staff acted with bravery in dealing with the threat.
"We will never be cowed into submission by people who hate," she told the crowd.
Before Gillum spoke, police removed two anti-Gillum protesters from the synagogue. One, Jacob Engels, a contributor to the far-right conspiracy website Infowars, shouted that Gillum is "a radical Jew hater who supports mob violence," drawing a loud chorus of boos from the crowd.
___
Associated Press writer Mike Schneider in Orlando, Fla., contributed to this report.