'Get off your phone!!' Day care's message to parents goes viral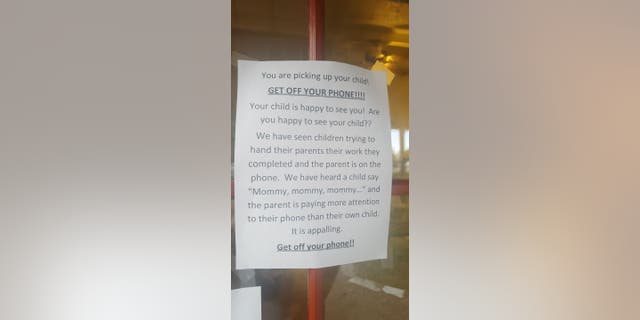 A day care in Texas has one message to parents picking up their children: Get off your phone. And it's going viral.
Juliana Farris Mazurkewicz was picking up her kids at the day care outside Houston on Friday afternoon when she spotted a new sign welcoming her at the door.
The sign read: "You are picking up your child! GET OFF YOUR PHONE!!!! Your child is happy to see you! Are you not happy to see your child??"
DC WAITRESS OVERWHELMED BY MESSAGE, TIP LEFT BY TRUMP SUPPORTERS
It continued: "We have seen children trying to hand their parents their work they completed and the parent is on the phone. We have heard a child say 'Mommy, mommy, mommy…" and the parent is paying more attention to their phone than their own child. It is appalling. Get off your phone!!"
Farris told Fox News she totally agreed with the message. She said she happened to have her phone in her hand at the time – usually she doesn't bring into to the day care for the same reasons mentioned in the sign – and decided to snap a photo to share with her friends.
COMMUNITY RAISES $60G FOR HOMELESS TEENAGER IN JUST ONE DAY
"I thought it was awesome," she said on Wednesday. "I thought it was funny and it definitely made me (think)."
Farris uploaded the photo onto Facebook soon after and it has been shared more than 957,000 times.
"I think (the message) definitely resonates with people," she said. "And it's not just at the day care, it's anywhere."
Farris said she had not heard from other parents at the day care – though she hasn't seen anyone on their phones since the sign went up. But people on Facebook have been weighing in.
"This needs to be posted everywhere this is a child trying to talk to their parents," Maxime Singleton Guy wrote.
Some people did not share the sentiment.
Janise Warren wrote: "Sorry, I'd remove my child from that school. They are right, of course, but that sign is not how you talk to another person, especially one paying your salary. I'm sure it's true to be heard by many parents, but these are the people I would have entrusted to help teach my kids respect and they were just as disrespectful with that sign as the parents were with the phone. Two wrongs don't make a right."
"Some people have to work on their phones. I have my personal cell and a work cell," Kirstin Ramsey wrote. "Just because I clock out of the office doesn't mean I'm finished with my work day. There have been plenty of times I've picked up my daughter and been on a work call."
As of Wednesday morning, the sign was still up, Farris said.
"We love this day care. It's a great place – really loving," she said. "They obviously care for the kids."