Georgia teen praised for saving two co-workers stabbed during robbery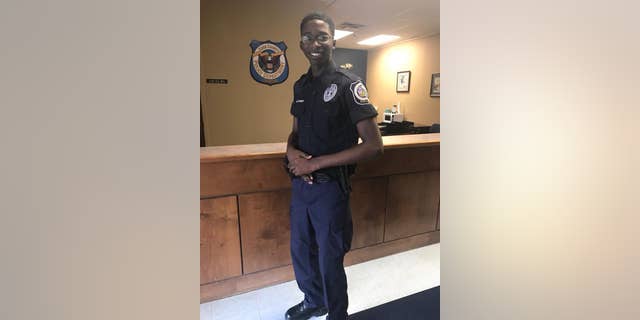 A teen in Georgia was praised by officials with the Cobb County Police Department for his quick thinking after two of his Target co-workers were allegedly stabbed over the weekend by a robber, police said.
Mario Alexander, 17, "was instrumental in saving a life at a local Target store," the police department wrote in a statement on Facebook, which had more than 2,000 reactions and 600 shares as of Wednesday afternoon.
FAMILY OF DALLAS COP WHO FATALLY SHOT NEIGHBOR SAID THEY ARE NOT RACIST AFTER PHOTOS SURFACE ON SOCIAL MEDIA
On Sunday evening, Alexander noticed that two of his coworkers had been "stabbed and cut by an escaped robber and rushed to their assistance," the police department said. One employee was "bleeding profusely" from a stab wound on his arm, while the other had suffered a neck wound.
Using the "materials at his disposal" -- which included his work shirt -- Alexander created a tourniquet to stop the bleeding on the first employee's arm. He then used gauze to apply pressure to his other coworker's neck. Alexander stayed with the two workers as they waited for authorities and medical personnel to arrive, according to the police department.
Alexander is reportedly an "explorer corporal" with the Cobb County Police Explorer Program, which trains high-school students in basic first aid knowledge and police work, The Atlanta Journal-Constitution reported.
"Corporal Alexander credits the training he has received as a Cobb County Police Explorer for preparing him for this event," the police department wrote, praising the 17-year-old for his speedy response. "Among the various training they receive regarding police work in general, Explorers also receive specific training on applying tourniquets to wounds that might otherwise result in massive amounts of blood loss and possibly death."
PREGNANT MOM OF 3 KILLED IN CRASH WITH PROFESSIONAL BOXER SUSPECTED OF DRUNK DRIVING
"His actions more than exemplify our commitment and dedication to public safety," the police department added.
Following the incident, a 27-year-old man was arrested on two counts of aggravated assault and one count of armed robbery, according to The Atlanta Journal-Constitution.