Georgia police beating: 1 of 2 wanted Gwinnett officers turns himself in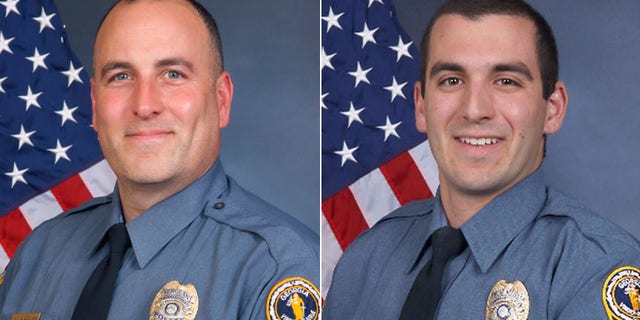 One of two Georgia police officers captured on video kicking and hitting a man during a traffic stop turned himself in Thursday as officials gave the other just a few more hours to surrender.
Sgt. Mike Bongiovanni walked into the Gwinnett County Jail Thursday morning on charges of battery and violation of oath of office – a felony – alongside his wife and lawyer, local media reported.
Bongiovanni and Master Police Officer Robert McDonald, who faces the same charges, were fired following the April 12 traffic stop incident in which videos showed the pair kicking and punching Demetrius Hollins after pulling him out of a car and handcuffing him.
DELAWARE STANDOFF OVER: TROOPER'S KILLER SHOT DEAD AFTER BARRICADING HIMSELF IN HOME
Both face a total bond of $15,000 and McDonald has yet to turn himself in despite authorities setting a Thursday deadline, WXIA reported.
"The police department and its employees will continue to serve the citizens while maintaining our core values and highest level of professionalism," Gwinnett Police Chief Butch Ayers said, according to Fox 5.
A police incident report viewed by ABC News said Hollins was driving without a license plate and had a brake light out.
MURDERED DELAWARE TROOPER SERVED THE FORCE FOR NEARLY A DECADE
Mike Puglise, a lawyer for Bongiovanni, said his client maintains his innocence and is disappointed by the charges.
"He's in a fight for his life and he plans to vigorously defend himself," Puglise said. He has previously said Bongiovanni was following procedure and using an elbow strike, a defensive tactic taught by the FBI.
Puglise said last week that Bongiovanni has asked the police human resources department to reinstate him.
Gwinnett County Solicitor-General Rosanna Szabo, whose office prosecutes misdemeanor and traffic offenses in the county, on April 14 dismissed 89 cases in which either McDonald or Bongiovanni was the main officer or a necessary witness.
"The actions of these officers completely undermine their credibility and they cannot be relied upon as witnesses in any pending prosecution," Szabo said in a news release.
McDonald, who was hired by the department in August 2013 and graduated from the police academy in March 2014, had reached the rank of master police officer. Bongiovanni, a sergeant, was hired in September 1998 and graduated from the academy in February 1999. Police earlier this month released the two former officers' personnel files.
Bongiovanni's last two annual evaluations, filed in June 2016 and June 2015, describe a well-liked supervisor with good management skills who kept his cool in stressful situations and cared about his officers. He received a rating of "often exceeds expectations" in nearly every category.
He's received numerous honors and commendations during his nearly two years with the department, including good conduct awards and sharing officer of the month honors for January of this year.
But disciplinary records show he was nearly demoted in 2014 for leaving his highway interdiction team unsupervised several times a week to go exercise while on duty. According to an evaluation from June 2014, he also left to visit his wife and go home early while his officers were on an active narcotics detail. His supervisor said he did not provide proper direction or a good example to his team.
Over nearly two decades with the department, Bongiovanni had 67 use-of-force reports in his file.
Bongiovanni wrote McDonald's evaluation last June. In it, he described McDonald as "an excellent example of a team player with a strong work ethic" who completed his work on time, was always willing to help others and was courteous and professional with the public. Bongiovanni gave McDonald a rating of "often exceeds expectations" in many categories and no rating lower than "generally meets expectations."
McDonald received a three-year good conduct ribbon in August. He and several other officers were named officer of the month for November 2015. He had three use-of-force reports in his file.
McDonald faced a disciplinary loss of his good driving record after he rear-ended another car in his patrol car in June 2015. But the officer who responded to the accident said in a letter to the department's safety review committee that it would have been very difficult for McDonald to avoid the wreck.
The Associated Press contributed to this report.