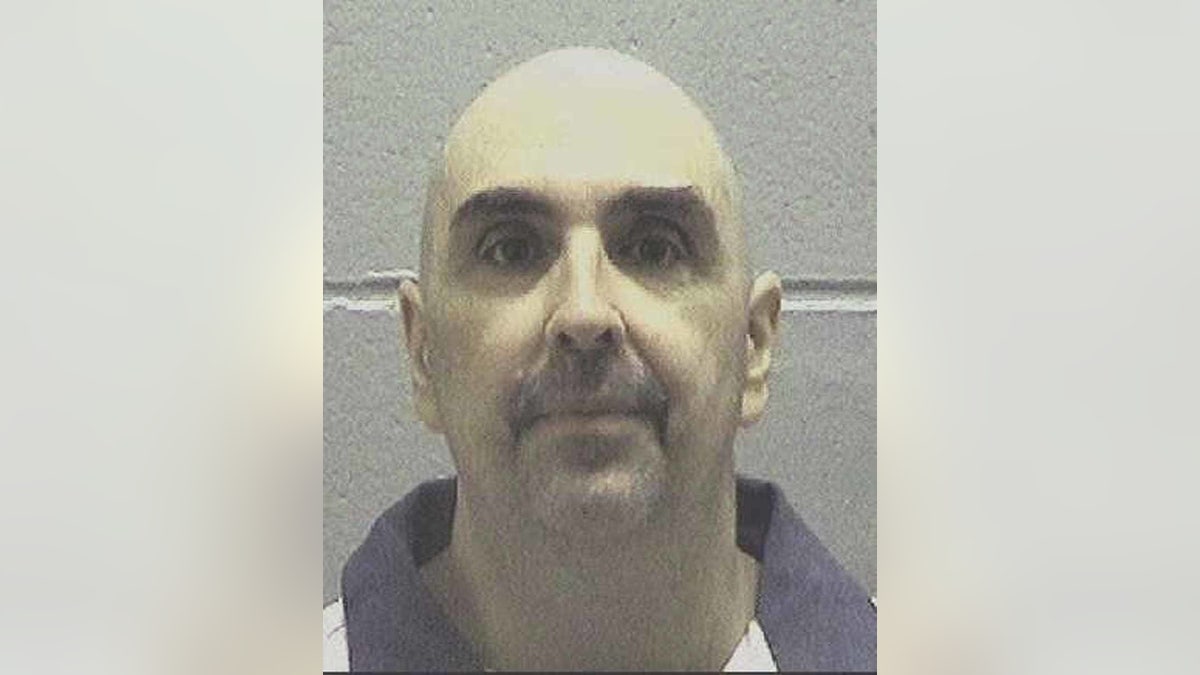 ATLANTA – Georgia on Wednesday carried out its eighth execution of 2016, putting to death a man who told a psychiatrist he didn't really want to die but also didn't want to continue living in prison.
Warden Eric Sellers told witnesses Steven Frederick Spears' time of death was 7:30 p.m. following an injection of the barbiturate pentobarbital at the state prison in Jackson. Spears, 54, was convicted of murder in the August 2001 slaying of his ex-girlfriend, Sherri Holland, at her home in Dahlonega, about 65 miles northeast of Atlanta.
PENNSYLVANIA MOM ACCUSED OF TEXTING VIDEO OF LIFELESS SON WAIVES HEARING
Spears didn't make a final statement and declined to have a prayer read. Within minutes of the lethal drug beginning to flow, he took several deep breaths and swallowed a few times before becoming still.
With Spears' death, Georgia has executed more people this year than any other state, including Texas which has executed seven. Three other states — Alabama, Florida and Missouri — have had one execution apiece, for a nationwide total of 18 executions this year.
Eight is the most executions Georgia has done in a calendar year since the death penalty was reinstated in 1976. The state executed five inmates last year and five in 1987.
WASH. MAN CONVICTED IN SEATTLE PACIFIC UNIVERSITY SHOOTING THAT KILLED STUDENT
A Georgia Supreme Court summary of the case says Spears killed Holland because he suspected she had become romantically involved with someone else. Spears came up with four separate plans for her death and ultimately killed her by choking her, wrapping tape around her mouth and face and putting a plastic bag over her head, the summary says.
Spears told investigators he told Holland when they began dating that if he caught her or heard that she was sleeping with someone else he would "choke her ass to death." Toward the end of his confession, Spears said, "I loved her that much. I told her I wasn't letting her go, and I didn't." He added that he'd do it again if he had to.
Spears didn't help his attorneys during his trial and automatic direct appeal and refused to initiate any post-conviction appeals.
About 10 percent of inmates executed in the U.S. have voluntarily waived their appellate rights, though Spears was the first such case in Georgia, said Robert Dunham, executive director of the Death Penalty Information Center, a nonprofit critical of capital punishment's application that does not take an official stance on it.
GUN USED TO SHOOT ALASKA POLICE OFFICER TIED TO FIVE MURDERS
"These executions are always problematic because they are cases in which there has not been complete judicial review," Dunham said, adding that the types of errors that typically result in a death sentence being overturned frequently are unearthed in post-conviction proceedings when a new team of lawyers digs into the case.
There have even been cases in which inmates who waived their appeals changed their minds at the last minute, halting their executions, and subsequently had their death sentences overturned, Dunham said.
Attorney Brian Kammer, executive director of the Georgia Resource Center, which defends death-row inmates, filed a petition Monday saying there were constitutional violations during Spears' trial and arguing Spears wasn't mentally competent to make the decision not to pursue post-conviction appeals.
Spears told Butts County Superior Court Judge Thomas Wilson during a hearing Tuesday that he had been tested and judged competent and argued he had the right not to pursue post-conviction appeals, according to a transcript. Lawyers trying to fight his execution were "trying to force their beliefs on me," he said.
Kammer asked the judge at a hearing Wednesday to dismiss the petition after two experts found he had the capacity to make a rational choice regarding legal challenges. He said state attorneys had assured him that if Spears changed his mind, the execution would be halted and Spears would be allowed to contact lawyers who would be waiting with appeal paperwork for him to sign, according to a transcript.
GEORGIA DAD CONVICTED OF MURDER IN DEATH OF TODDLER IN HOT SUV
When the state's expert, Dr. Matthew Norman, asked during an evaluation Tuesday if he wanted to die, Spears said, "Not really, but would you want to live in a six by nine cell. That's not living," according to the psychiatric evaluation report. He added, "I want to because I don't want to live like I'm living. It's like a cancer eating me up every day."
When Norman asked about his refusal to pursue post-conviction appeals, he said, "We're talking about another ten to fifteen years. I'm not doing that. The process takes so long. It's what's wrong with the death penalty. I have another twenty years of appeals," he said, adding that even if the court were to grant him life with a chance of parole it would take a long time and there was no assurance he'd actually get out of prison.