Georgia burglars on the run are killed after car crashes into pond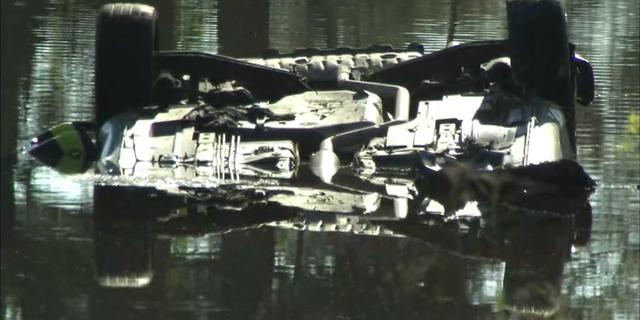 Three burglars died and a suspect escaped after their car crashed into a Georgia pond while on the run from police on Monday.
The police chase began after officers received a call about a burglary at a Sprint PCS store in Fayetteville around 4:30 a.m., Fox 5 Atlanta reported. When they arrived, they chased a car with four men that was leaving the scene.
Three of the men were identified as Mark Anthony Mathis, 19, Eddie Alford, 21, Devongelo Hunter, 19.
The police pursuit continued to Clayton County where the suspected burglars' car struck another vehicle, went airborne and crashed into a pond, police said. The car was submerged within 15 minutes.
POLICE: COP SHOT IN UPSTATE NY, SUSPECT BARRICADED IN HOME
"My officers immediately entered the vehicle and tried to get to the folks inside to render aid, but they were unsuccessful," Deputy Clayton Police Chief Joseph Woodall told Fox 5 Atlanta.
Mathis, Alford and Hunter were pronounced dead at the scene.
Police are still searching for the fourth suspected burglar who managed to escape.
EX-FRATERNITY BROTHERS PLEAD GUILTY IN HAZING DEATH
Th driver of the other vehicle struck was taken to the hospital with non-life threatening injuries.
The four suspects had criminal records in the county, investigators said.