George HW Bush turns 93: Fun facts about the former president
President George H.W. Bush celebrates his birthday on June 12 — when "41" is turning 93.
Born in Massachusetts in 1924, Bush served one term as U.S. president from 1989 to 1993. He earlier served as vice president to former President Ronald Reagan.
But Bush's life is and was more than just leading the country. From despising broccoli to jumping out planes, here are some fun facts to know about the former president.
His childhood nickname was "Poppy."
A photo of his great-granddaughter, Poppy Louise Hager, was posted to George W. Bush's Instagram account in August 2015.
The younger Bush said his daughter, Jenna Bush Hager, and her husband Henry Hager "chose her name as a tribute to her great-grandfather, 41, who was nicknamed Poppy as a child."
He is a Presidential Medal of Freedom recipient.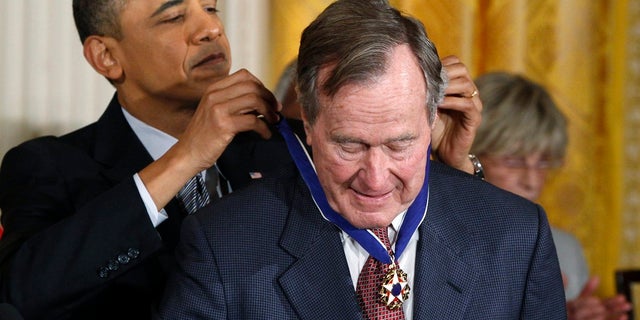 NEWYou can now listen to Fox News articles!
Then-President Barack Obama presented Bush with the award in 2011.
"We honor George Herbert Walker Bush for service to America that spanned nearly 70 years, from a decorated Navy pilot who nearly gave his life in World War II, to U.S. ambassador to the United Nations, from CIA director to U.S. envoy to China, to the vice presidency," Obama said at the time. "His life is a testament that public service is a noble calling."
FORMER FIRST LADY BARBARA BUSH CELEBRATES 92ND BIRTHDAY
"As president, he expanded America's promise to new immigrants and people with disabilities. He reduced nuclear weapons. He built a broad international coalition to expel a dictator from Kuwait. When democratic revolutions swept across Eastern Europe, it was the steady diplomatic hand of President Bush that made possible an achievement once thought impossible — ending the Cold War without firing a shot."
He hates broccoli.
Bush banned the vegetable on Air Force One, the New York Times reported in 1990.
"I haven't liked it since I was a little kid, and my mother made me eat it. And I'm President of the United States, and I'm not going to eat any more broccoli!'' he said in March of that year.
In June 2016, Bush tweeted a photo of a young boy's letter which said, "Mr. President, broccoli is really good for you. I wish you liked broccoli like I do."
"Proud of young Cooper's interest in healthy eating," Bush tweeted. "His declared love of broccoli is genuine, if also unpersuasive."
He's a huge fan of socks.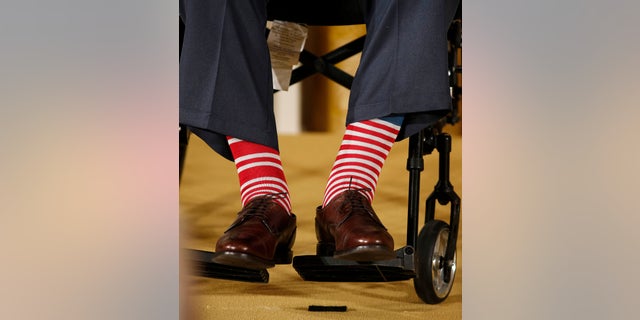 When it comes to fashion, Bush puts his best foot forward.
Bush is known for his colorful and eccentric socks. When former President Bill Clinton met with his predecessor in Texas earlier this year, he brought him a pair of socks.
"We caught up about kids, grandkids, old times and new times. And socks," Clinton said in a tweet.
GEORGE H.W. BUSH GETS SURPRISE VISITOR IN HOSPITAL
The Republican National Committee also sells "Official George H.W. Bush socks" for $19. The brightly colored socks include an embroidered elephant and Bush's signature.
He has a home off the coast of Maine.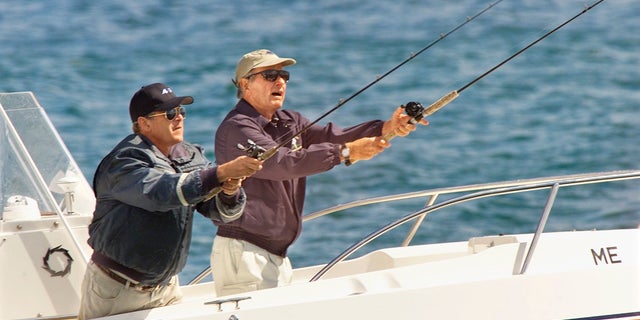 Called the "Bush compound," Bush and his wife Barbara reside during the summer in their Kennebunkport home — an estate that has been in the Bush family since the late 19th century. When they're home, a Texas flag flies from the compound.
Bush's great-grandfather and grandfather purchased the estate together, the Washington Post reported.
There is an area across the water for visitors to pull over and snap pictures of Walker Point. There, too, is a plaque dedicated to Bush by the Kennebunkport Conservation Trust.
Son Jeb Bush is also building a home on Walker's Point. The former Florida governor's 3,000-square-foot house is expected to cost $600,000 on land estimated at $1.4 million.
The former president and his wife arrived in Maine for the summer in May.
He was a collegiate baseball star.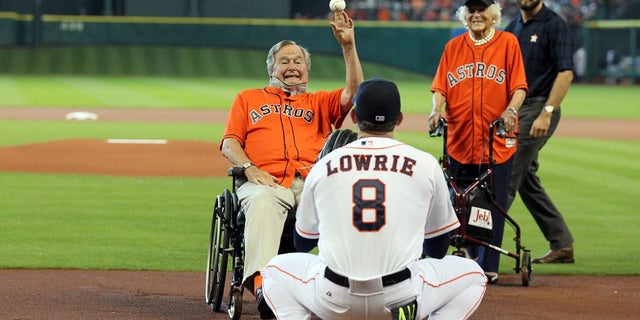 As captain of Yale University's baseball team, Bush helped lead the team to the first two College World Series championship games. But the team lost the championship both years — to the University of California in 1947 and the University of Southern California in 1948.
BILL CLINTON GIFTS GEORGE H.W. BUSH SOCKS
"I remember going out there and thinking, 'Well, we're pretty darned lucky as an Ivy League team to be in the big time here,'" Bush said in a 2007 interview. "But there we were."
Bush was the team's first baseman at the time. He kept his mitt in a drawer in the Oval Office while he was president.
He jumps out of planes for his birthdays.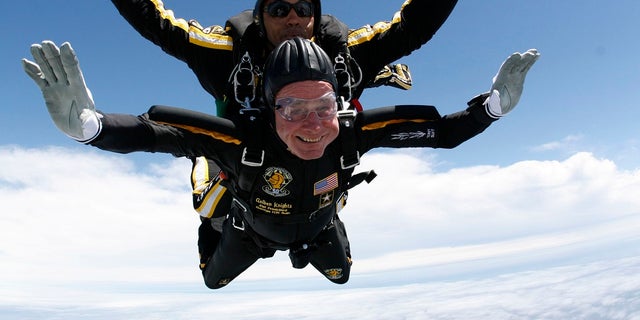 Bush celebrated his 90th birthday in 2014 by taking a leap. And for his 75th, 80th and 85th birthdays, he did the same.
Even though he could no longer use his legs in 2014, Bush made a tandem parachute jump from about 6,000 feet near his Kennebunkport home.
"That's what he wanted for his 90th birthday, and that's what he got," Sgt. 1st Class Mike Elliott, a retired member of the Golden Knights, the Army's parachute team, said at the time. "It's a very good feeling to be involved and be able to turn back time. He's probably feeling younger now than ever."
He made the jump using a red, white and blue parachute.