General Dempsey tells mom of fallen SEAL he's sorry for Ramadi remark
Gen. Martin Dempsey is used to giving orders, but it was an apology he issued Monday to Debbie Lee, after the Gold Star mom complained that the joint chiefs chairman trivialized the Iraqi town where her son became the first Navy SEAL to die in the Iraq War.
"I've read your letter, and I do apologize if I've added to your grief."
Lee, whose son Marc was killed in Ramadi in 2006 after a fierce firefight with insurgents, told FoxNews.com she was "in tears" Friday after listening to comments by Dempsey in which he said the imminent fall of Ramadi to ISIS militants was "not symbolic in any way."
Lee, who was watching her TV, said she sat there stunned.
"I kept saying to myself, 'No symbolism? Are you kidding me?" she exclaimed.
The Arizona mother and founder of the group, America's Mighty Warriors, promptly penned an open letter to Dempsey, roundly criticizing him for the "insensitive, pain-inflicting comments" about Ramadi – which became the epicenter for insurgency groups after the fall of Fallujah in 2004.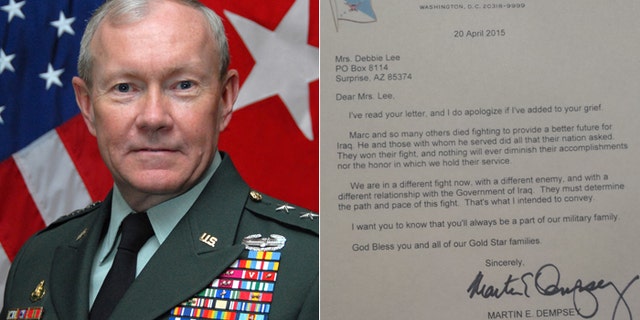 "The city itself is not symbolic in any way"? Oh, really? Are you willing to meet with me and with the families who have lost a son, daughter, husband, wife, father, mother, aunt, uncle, grandson, or teammate?" Lee wrote to Dempsey.
"You, sir, owe an apology to the families whose loved ones' blood was shed in Ramadi," she wrote. "You and this administration have minimized that Ramadi could fall, now you are minimizing that it is falling, but you Sir WILL NOT minimize the sacrifice my son Marc Lee made or any of our brave warriors!"
Lee got an apology in the form of a letter on Monday.
"I've read your letter, and I do apologize if I've added to your grief," Dempsey wrote.
"Marc and so many others died fighting to provide a better future for Iraq. He and those with whom he served did all that their nation asked. They won their fight, and nothing will ever diminish their accomplishments nor the honor in which we hold their service," he said.
But, Dempsey noted, "We are in a different fight now, with a different enemy, and with a different relationship with the Government of Iraq."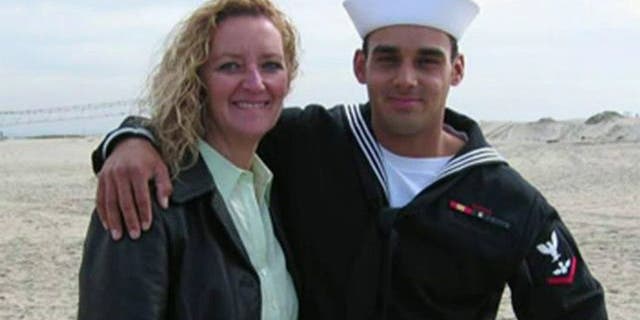 "They must determine the path and pace of this fight. That's what I intended to convey," he wrote.
Lee, who said Dempsey is expected to call her by phone later Tuesday, described the letter as a "soft apology" but said, "it's still an apology and that's huge."
"I accept it," she told FoxNews.com, "Though I'm going to be watching and I won't hesitate to call him out again if I hear something that's not right."
Lee was 28 when he was killed in Ramadi on Aug. 2, 2006, after fellow SEAL Team 3 member Ryan "Biggles" Job was seriously injured by sniper fire. While other SEALs tended to Job, Lee single-handedly provided cover fire and was mortally wounded. He was posthumously awarded the Silver Star, the Bronze Star with Valor and the Purple Heart.