Gas explosion evacuees given 'no clear timeline' for returning to homes: officials
Thousands of Boston-area residents forced to evacuate their neighborhoods after Thursday's gas explosions and fires had "no clear timeline" on when they could return, officials said.
The explosions, which killed at least one person, leveled a number of homes and set off as many as 70 fires, affecting residents of Lawrence, North Andover and Andover, communities in the Merrimack Valley north of Boston, the Massachusetts State Police said.
At least 20 people were injured, FOX station Boston 25 reported.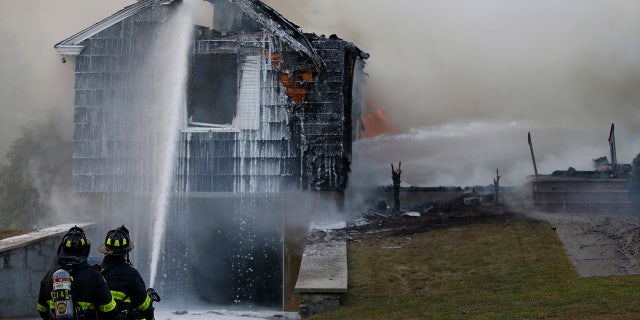 Andover resident Don Bradley told Boston's WBZ-TV that upon hearing the news of gas explosions he immediately evacuated his home, but had to convince his "millennial" son, who wanted to grab his iPad and Macbook, to leave the devices behind.
"It's a gas explosion, we're going. We've got to go. This is not negotiable."
"It's a gas explosion, we're going," Bradley said he told his son. "We've got to go. This is not negotiable."
Manuel Cabrera told the Boston Globe he was forced to shelter at an elementary school with other residents.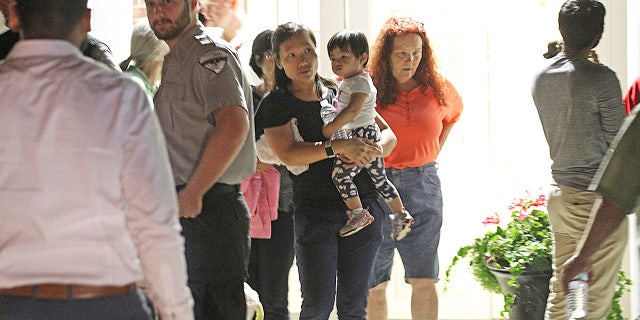 "I probably would have found another place to wait it out, but they shut off the power in the city," he said. "Hopefully, we'll all be able to go home soon."
The three affected communities total more than 146,000 residents about 26 miles north of Boston, near the New Hampshire border. Lawrence, the largest of them, is a majority Latino city with a population of about 80,000.
Volunteer firefighters and residents equipped with monkey wrenches were reportedly going from house to house shutting off gas lines to prevent more explosions and fires.
As fires raged, some neighborhoods were filled with heavy smoke and fleeing residents.
"It looked like Armageddon, it really did," Andover Fire Chief Michael Mansfield told reporters. "There were billows of smoke coming from Lawrence behind me. I could see pillars of smoke in front of me from the town of Andover."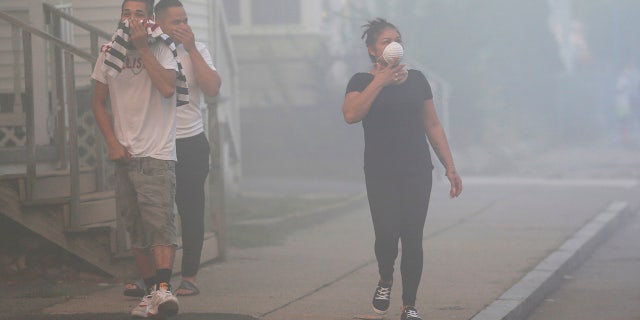 Andrew Flanagan, town manager of Andover, where firefighters responded to 38 fires, told Springfield-based newspaper the Republican that "there is no clear timeline" on when evacuated residents could go back to their homes.
"We're going through a process with the utility identifying which areas of town that this most impacted in order to provide and accurate timeline of when people may be able to return to their homes," Flanagan told Boston's WFXT-TV.
Lawrence Mayor Dan Rivera told the station that there was no expectation that people would be able to return to their homes Thursday.
"Some explosion took place about two streets down from where I live, so this is affecting me personally because my entire neighborhood now has been evacuated," Lawrence City Councilor Marc LaPlante told the station.
Columbia Gas, the utility that serves the communities, said earlier in the day that it would be "improving natural gas service" in the area, but was unclear on when and where the work would begin, MassLive reported.
After the explosions occurred, the utility issued the following statement:
"Columbia Gas crews are currently responding to reports of multiple fires in Lawrence. Our thoughts are with everyone affected by today's incident.
"The first priority for our crews at the scene is to ensure the safety of our customers and the community by supporting first responders and completing safety checks on our system and in the surrounding area.
"We appreciate the response of local emergency responders and their coordination with our teams.
The company told customers that if they smell natural gas, to immediately leave the area and call 911 and their emergency number: 1-800-525-8222.
It also listed measures customers should take if they smell natural gas.
"Don't turn off gas to your house or to any appliances," the statement said. "Don't try to find the leak yourself or operate pipeline valves; don't light a match or candle, or operate anything that could cause a spark, including home phones or cell phones, lights, appliances, flashlights, power tools, etc; and don't open the windows and doors in an attempt to ventilate."
Gas service was shut down by the company to roughly 8,000 customers.
Fox News' Nicole Darrah and the Associated Press contributed to this report.