Furor erupts over video of officer slamming student to floor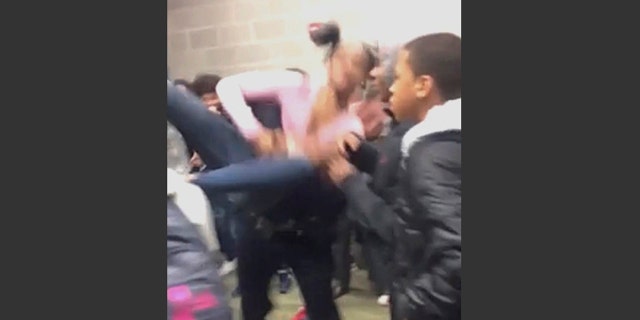 ROLESVILLE, N.C. – As two girls fought in the cafeteria area of a North Carolina high school, another student raised her cellphone to make a video, sparking a furor when she captured a police officer picking up and slamming a student to the floor.
The student who got slammed down was trying to break up the fight, said Ahunna Akpuda, the 15-year-old who recorded the officer and the student at Rolesville High School and shared the video on social media.
Akpuda recorded a brief video Tuesday of an officer surrounded by students. The officer lifts and drops a girl on her left side, then pulls her to her feet and leads her away. Akpuda said two girls had been fighting. One was the sister of the girl who was slammed to the floor.
The girl who tried to break up the fight seemed "confused about why he was pulling her and restraining her," Akpuda said.
The video doesn't show what led up to or followed the episode. Akpuda said the officer arrived a few seconds after the girl tried to break up the fight.
"He drags her farther away from the actual fight after it was broken up," said Akpuda, who spoke with The Associated Press on the phone Wednesday, along with her mother. "That's when he proceeds to lift her up and slam her down to the ground."
Her mother, Pam Akpuda, said she doesn't think the officer, identified by town officials as Ruben De Los Santos, should be allowed to return to the school.
"I don't feel comfortable with him going back in the school," she said. "If he's fired, so be it. At the least, he needs to be reassigned."
De Los Santos is on paid administrative leave, the Rolesville police chief has said. Police Chief Bobby Langston said he's reviewing the incident, which he also said began as a fight between two female students Tuesday morning. He declined to say whether the officer has an attorney.
The officer is Hispanic and the female student in the video is black, Mayor Frank Eagles said.
The mother of the girl seen slammed to the floor says she's pulled both of her daughters out of the North Carolina high school they were attending.
Desiree Harrison told WRAL-TV (http://bit.ly/2j67LCo) on Wednesday that she also has hired an attorney after seeing the video. Harrison didn't return messages from The Associated Press.
The video has prompted the state's largest school district to take a fresh look at standards for officers assigned to work in schools. Wake County school officials will review the memorandum of understanding that places an armed police officer in every high school and some middle schools, district spokeswoman Lisa Luten said Wednesday.
De Los Santos has been assigned to the school since it opened in 2013, Eagles said. About 2,200 students in grades nine through 12 attend the school.
Wake County schools don't have their own police force so the district contracts with local police to place school resource officers on campuses.
Under the agreement, school resource officers can provide security, offer advice and act as law enforcement officers to address criminal matters or when there's "an imminent threat to health or safety." Their multiple duties also include acting as role models and providing information about community agencies that can help young people and families.
The agreement allows them to use force but it cannot be "excessive, arbitrary or malicious."
Officials with the National Association of School Resource Officers wouldn't comment on what happened at Rolesville High School. The association's recommendations include starting with the selection of school officers, who must have the right mindset to work with young people, said D.J. Schoeff, a school officer in Carmel, Indiana, and NASRO second-vice president.
"Although we are law enforcement, that is the last-resort function that we have," he said. Building relationships, deterring crime and acting as an informal counselor or mentor are primary duties, he said.
NASRO estimates that 14,000 to 20,000 officers work in schools in the United States, he said. About 1,000 officers worldwide trained with NASRO last year, he said.