Funeral for beaten World War II veteran draws hundreds of mourners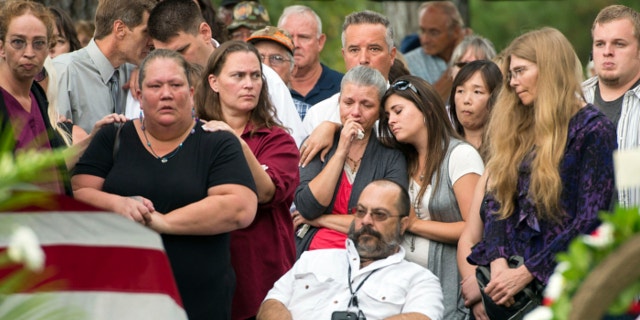 Hundreds of people attended the funeral of a World War II veteran who police say was beaten to death by two teens last week in a random robbery.
88-year-old Delbert Belton was buried with full military honors Thursday at a cemetery in Spokane.
Friends remembered Belton as a kind man who loved to dance, play pool and work on cars. Dozens of American flags flew near his grave and a vocalist sang "We'll Meet Again."
Known as "Shorty" because he was barely 5 feet tall, Belton was wounded in the leg during the Battle of Okinawa. He later worked 30 years at an aluminum factory in Spokane.
Belton's family told NWCN.com that turnout at Thursday's service, which included more than 500 motorcycles, was overwhelming.
"It was overwhelming, I just can't believe it," Belton's nephew, Ty Bennett, told the station. "It's breathtaking and leaves me speechless this turn out. How many people just care in the community."
Pastor Homer Todd, who led the crowd in prayer for the service, said despite Belton's age and declining health, he always made time to dance with friends at events in Spokane and Mead.
"There are a lot of gals that will miss having a partner at those events," he said.
Two 16-year-old boys, Adams-Kinard and Demetrius L. Glenn, have been charged with first degree murder in Belton's death.
Police said Belton, who was wounded in the Battle of Okinawa, was beaten in his vehicle as he waited for a friend in the parking lot of an Eagles Lodge in north Spokane. Officers found Belton with serious head injuries, and his wallet had been taken. He died in the hospital Thursday.
Adams-Kinard reportedly suggested that the attack came after the veteran shorted him and Glenn on a sale of crack cocaine. The allegation was sharply refuted by friends of Delbert Belton and police said they have no evidence to support the drug deal claim.
The teens will be tried as adults, and Spokane County District Judge Debra Hayes on Tuesday ordered Adams-Kinard moved from a juvenile jail to the Spokane County Jail.
The Associated Press contributed to this report.
Click here for more from NWCN.com.