Frustration mounts for Floridians still lacking power after Irma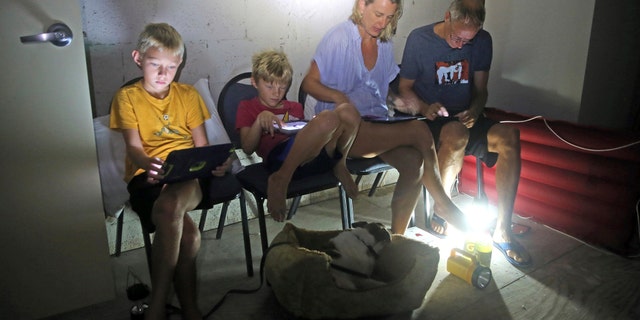 NEWYou can now listen to Fox News articles!
Duke Energy's unit in Florida has told its customers that it will be calling them Saturday to confirm whether electrical service has been restored in their area following Hurricane Irma.
The company said on its website that it had already restored service to 96 percent of customers in Pinellas and Pasco counties, and planned to have power restored to all other customers in those counties by midnight Saturday.
According to the Tampa Bay Times, the company missed a self-imposed Friday deadline for restoring power to all customers.
That was frustrating for many of the company's customers, the newspaper reported.
John Johnson told the Times he lost power at 8 p.m. Sept. 10. But on Friday afternoon, Johnson was still in the dark.
"They're a bunch of liars," Johnson told the Times, referring to Duke Energy. "They weren't prepared for this storm. They can't tell the truth."
After sweeping through the Caribbean last week, causing death and destruction on islands as small as Barbuda and as large as Cuba, Irma made landfall Sunday on Florida and swept through much of the state. Millions were left without electricity.
In the Miami area, customers of Florida Power and Light have also been struggling without service. The problem was exacerbated earlier in the week when the utility's website and smartphone app both crashed, leaving already frustrated customers with even less access to information.
FPL's efforts to restore power simply weren't fast enough, customers of the utility told the Miami Herald.
The utility has pledged to restore power by Sunday night, the newspaper reported. But as of Friday afternoon, nearly a quarter-million customers still did not have service, it said.
"What really set me off was when I heard from a cousin in Cuba who had power restored in two days," Jackie Alvarez, a Miamian, told the paper. "FPL promoted their plans for recovery, but it's been worse than a third-world country."
"FPL promoted their plans for recovery, but it's been worse than a third-world country."
By Friday night, about 36,000 Tampa Electric customers still didn't have power, the Tampa Bay Times reported. The company hoped to have fully restored by Sunday night, said a company spokeswoman told the paper.
In the Jacksonville area, utility JEA was at the point where the company could reasonably predict when crews would reach a neighborhood to restore power, CEO Paul McElroy told the Florida Times-Union.
"Right now we're progressing better than the rest of the state in terms of our restoration," McElroy said. "We think that's good for our community, but I know it's frustrating for those who are still without power."
Clay Electric Cooperative, which covers 14 counties, reported that about one-third of its members – about 53,700 – remained in the dark.