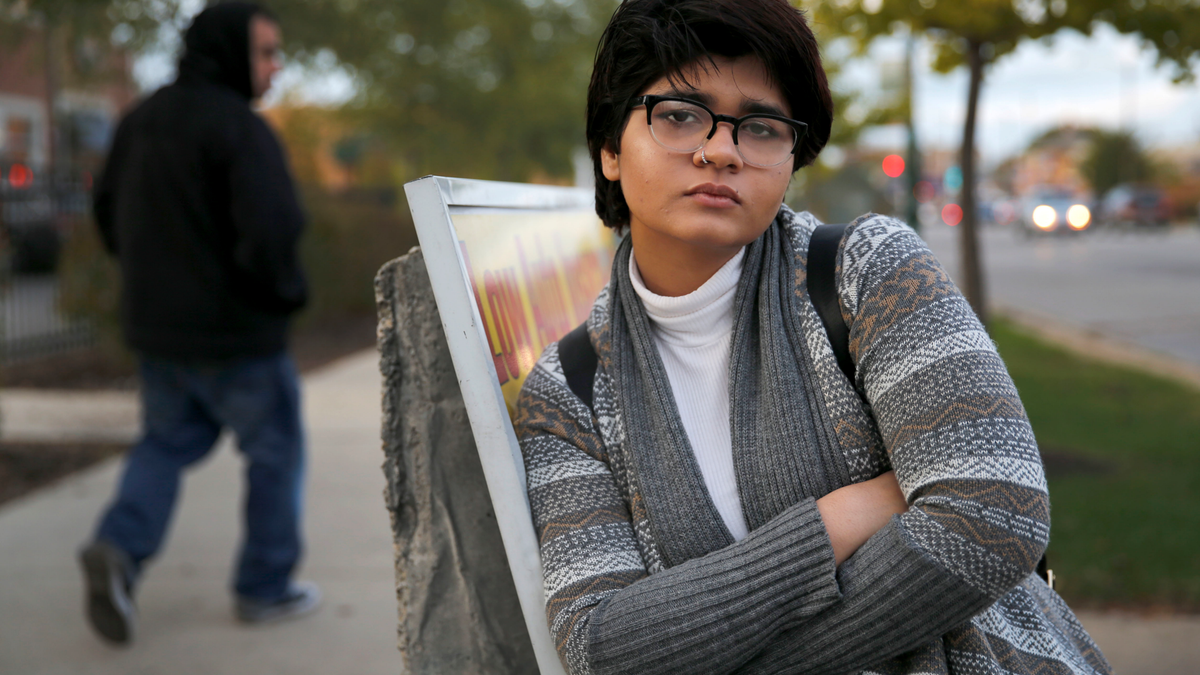 CHICAGO – Maryland students using their shirts to spell a racial slur used against black people at a rally. Pennsylvania students posing with swastika-carved pumpkins. A Montana student photographed with a gun accompanied with a racial epithet.
Racial incidents are appearing to pop up at an alarming rate in the nation's public schools. There were roughly 80 incidents in October alone, by one expert's count, including a Chicago-area student who was charged with a hate crime for racially charged posts on social media.
Many educators note a spike anecdotally, and social media can give such incidents wider and faster exposure. But it's far trickier to assess whether there's an increase numerically, with no organization or agency consistently tracking the issue over time.
School officials acknowledge the incidents are more visible and brazen, fueled by a polarizing presidential administration, divided public and "meme culture." As a result, schools have responded more publicly and intensely than before.
"You have to be aware of it. You have to monitor it. You have to prevent it from escalating," said Dan Domenech, head of the School Superintendents Association, who believes there is a spike this year.
Studies surveying schools and teachers during the 2016 presidential campaign noted an increase in anxiety and fear. Many traced it to fiery comments that then-Republican candidate Donald Trump made about immigrants, African-Americans and Muslims.
A study released last month by the University of California in Los Angeles showed a surge in teachers reporting student anxiety, from roughly 7 percent in past years to 51 percent this year. It also showed nearly 28 percent of teachers reporting a spike in students making derogatory remarks about other groups during class discussions.
And high-profile incidents such as the white supremacist rally in Charlottesville, Virginia, that turned violent and the spate of police shootings of blacks and other minorities can accelerate racially charged reactions.
Teaching Tolerance, an anti-hate program, used to get requests from schools once a month for help. But since the election it's been daily, according to Maureen Costello who runs the Southern Poverty Law Center program.
She started tracking incidents through news media accounts at the start of October after there seemed to be a rise. Part of the explanation for the recent spate, she said, could be the homecoming season. Students become more settled in school and start attending events such as pep rallies and dress-up days.
Administrators and teachers, once reluctant to discuss incidents over privacy concerns, are being more proactive, Costello said. They're beefing up curriculums and training staff for difficult conversations.
"Schools are looking for professional development. They're looking for interventions," she said. "There's a sense of just really not knowing quite what to do."
Social studies teacher Terry Jess in Bellevue, Washington, said he's had to be more vigilant this year in reminding students about classroom rules on appropriate language and listening even when there's disagreement. He also keeps closer tabs on Snapchat and Twitter to watch for incidents.
"It has gotten where there seems to be a lack of decorum and respect ... as far as what we're seeing from our political candidates, what students are seeing on social media," he said. "That has started to creep in our hallways."
A look at the past few weeks shows the quick steps schools have taken.
In Virginia, a middle school forfeited the remainder of the football season after players made a Snapchat video showing simulated sex acts on black peers and using racially charged language. A Utah school launched an investigation and disciplinary action after a group of white girls, including cheerleaders, circulated a video of themselves in a car chanting a racial slur used against black people, even though it was filmed off campus. A South Dakota school forfeited its homecoming football game against a school from a nearby American Indian reservation and canceled its dance and parade after social media photos showed students destroying a car with "Go back to the Rez" painted on the side.
Still, there's a lack of hard data on racial incidents in schools, making some experts cautious about reaching any conclusions.
The National Center for Education Statistics has little information on the topic. An analysis of data for this school year that looks at hate-related words won't be available until the summer of 2018.
Individual advocacy groups say they've documented a spike and want schools to do more. The Anti-Defamation League's count of anti-Semitic harassment and vandalism in K-12 schools nearly doubled, from 130 in January to September of last year to 256 in the same period this year.
The ADL and the NAACP are pushing for wider anti-bias training.
Yet, some administrators and counselors say the increased response from schools over student conflicts dates back years to when they were reacting to school shootings with fresh security plans and safety exercises.
Whitney Allgood, CEO of the National School Climate Center, said the focus on school climate is due to a policy shift in recent years, including anti-bullying campaigns, not high-profile incidents.
Other experts say another factor could be how students share information through social media, with more of an emphasis on getting attention. A taunt once isolated to a passed note is now disseminated widely because of "meme culture" requiring picture-ready and edgy posts.
Chicago high school senior Hira Zeeshan said she's been affected personally by the rhetoric as a Pakistani Muslim immigrant and is pushing her racially diverse school to draft statements supporting immigrants.
But one of the hardest days was after Charlottesville. The issue came up in a class, but she wanted schoolwide discussions.
"It was really disturbing the way people were just able to walk out on the street and show all this hatred and use Nazi symbols," she said. "We just resumed our day like it was normal."
___
Follow Sophia Tareen on Twitter at https://twitter.com/sophiatareen